Name of Activity:
Jersey Swap
Purpose of Activity:
This game is a great intro activity or extension task for learning skills such as dribbling. It can also be used as an application task for younger students learning locomotor skills.
Prerequisites:
Moving in general space (avoiding collisions)
Materials Needed:
2 jerseys per student (need equal amounts of each color)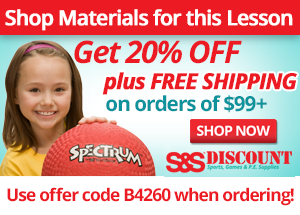 Description of Idea
Students in four teams. Each team assigned a color.
Each team stands at a corner of the gym .
Each corner has a pile with equal amounts of all of the colored jerseys.
Students form line at their corner, take turns dribbling or moving in space to collect one jersey from a different corner.
Goal: Have your corner get all of the jerseys of your team's colors.
Can swipe basketballs from people as they are dribbling (if working on dribbling), be sure to demonstrate.
Can take a jersey other than your color.
Cannot take more than one jersey.
Cannot prevent people from stealing from your pile.
Two go at a time per team (or more, depending on the size of the class), remaining in line practice low dribbling.
Safety: Look while you move and dribble, keep head up while dribbling.
Variations:
Give the students different jersey combinations to get (two of each color, half of pile one color and half another, etc.)
Have kids help reset jerseys after each game.
Allow students to choose between locomotor activities.
Assessment Ideas:
Psychomotor: As there are only about 8 students running at an given movement, a teacher can record whether or not each particular student executed the skill cues.
Cognitive: During debriefing, teachers can check for understanding and verbally assess the students' knowledge of strategy (which jerseys to get, what corners to target, etc.),and skill cues.
Submitted by Svea Nelson who teaches at Purdue University (student) in West Lafayette, IN. Thanks for contributing to PE Central! Posted on PEC: 4/14/2017. Viewed 18450 times since 2/15/2017.
Jersey Swap

---
Previous Comments:
There are currently no comments to display. Be the first to add a comment!
---
---