Name of Activity:
Four Corner Fitness Run Warm Up
Purpose of Activity:
To gets students involved in a fun fitness oriented activity as soon as they enter the class.
Prerequisites:
It is important that the students have practiced the exercises from all four corners.
Suggested Grade Level:
3-5
Materials Needed:
4 cones
Cards with descriptions of exercises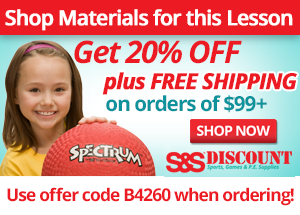 Description of Idea
Split the class into four groups and place each group at the corner of the gym (we used the corners of the volleyball lines--see diagram below). The first student in each line runs counter clockwise to the next corner, while the other students are doing an exercise (Corner 1: Jumping Jacks, Corner 2: Push-ups, Corner 3: Sit-ups, Corner 4: Supermans). Once the first student arrives to the next corner, they will jump in that line to do that exercise. The next person in line will run down to the next corner.
Room Diagram:
Variations:
Upon command from teacher have them go counter clockwise.
Upon command don't run but bear walk between cones. Or skip, crab walk, etc.
Students can also set goals for themselves of how many they hope they can do, before they have to run to the next corner.
Video

Submitted by Drew Burris who teaches at La Monte R-IV School District in La Monte, MO. Thanks for contributing to PE Central! Posted on PEC: 1/26/2017. Viewed 44444 times since 1/22/2017.
Four Corner Fitness Run Warm Up

---
Previous Comments:
| | |
| --- | --- |
| Audrey Lawrence | My students love the 4 corner warm up activity.Once jogging from station to station became "boring", we added walking backwards to the even numbered corners.Next we will try the "crab walk". |
---
---