Name of Activity:
Crazy Taxi
Prerequisites:
Space Awareness, Locomotor skills
Suggested Grade Level:
Elementary
Materials Needed:
5 Papers with a different locomotor skill on them, open space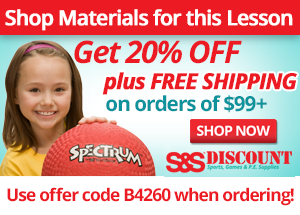 Description of Idea
5 students will be given a paper with a specific locomotor skill (cannot be jumping) will be taxi drivers. All other students will be spread out around in open space.
On go, students not given the papers will begin jumping in place. The students with the papers will do the locomotor skill that is on the paper. On go for these students, they will do their locomotor skill while going up to as many students and telling them to "get in". When a student who is jumping is told to get in, they will get behind the taxi drivers and mimic the same locomotor skill.
The goal is to get as many passengers as each driver can doing the locomotor skill of that driver.
Variations:
Try using pathways. Drivers can choose the locomotor movement but must move in a straight, curved, or zig zag pathway.
Adaptations for Students with Disabilities

Students with disabilities, like wheelchairs and other disabilities, can be drivers, and students can be brought closer for them.
Submitted by Dakota Bersch in Lincoln, CA. Thanks for contributing to PE Central! Posted on PEC: 1/31/2017. Viewed 39364 times since 12/13/2016.
Crazy Taxi

---
Previous Comments:
| | |
| --- | --- |
| Torey Dumont | This is a great instant activity. I really like how it implements the locomotor skills in it. |
---
---