Name of Activity:
Goodnight Friends (Listening and Locomotor)
Purpose of Activity:
To practice listening skills while working on locomotor skills as well.
Suggested Grade Level:
PRE-K
Materials Needed:
Can use a musical instrument if desired.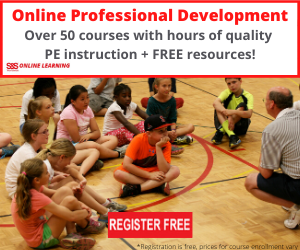 Description of Idea
Have the students spread out in a good self space in general space. Then, the teacher will call out a student name. For example: "Goodnight Allan, Goodnight Jessie, Goodnight Jacob, it's time to take a rest Goodnight Ynez, Goodnight Shayla, Goodnight Azarius, it's time to go to bed."
Continue singing this until all children are on the floor in a sleeping position. Have children lay for a little bit then teacher can either clap or use their instrument and say "Friend's came to school today, friends came to school. All so excited, friends came to school today (insert locomotor skill here). Ex. Jump friends Jump, Jump all around, great job friends spin around.
Start over again with the sleeping part except have all children go down at once. Make sure they go to sleep slowly however. Continue interspersing with locomotor skills of galloping, skipping, hopping and jumping.
Variations:
Practice a variety of locomotor skills and patterns.
If you have a large class then you can say Goodnight to entire class after you say Goodnight to a few individual children.
Submitted by Kim Van in Sacramento, CA. Thanks for contributing to PE Central! Posted on PEC: 4/6/2017. Viewed 61209 times since 12/6/2016.
Goodnight Friends (Listening and Locomotor)

---
Previous Comments:
There are currently no comments to display. Be the first to add a comment!
---
---