Name of Activity:
Avenger/Superhero Fitness Differentiated Warm Up
Prerequisites:
Students must know how to properly perform push ups, sit ups, jumping jacks, and any of the other fitness activities you provide.
Suggested Grade Level:
3-5
Materials Needed:
Poster/white board for showing your numbers and activities (can change and switch these periodically to add variety).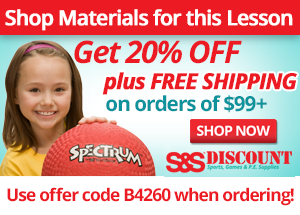 Description of Idea
Students enter into the gym and find a good self space. Then, they decide if they want to work as an Avenger/Superhero level today, the Side Kick level, or the trainee level. The board has leveled activities and numbers for goals with a plus sign, but you can always do more.
Avenger level could be 10 jogging laps, 14 push ups, 16 sit ups, and 20 jumping jacks.
Side Kick level would be slightly less
Trainee would be a beginner's level and be less.
Students can decide to work at a level they are successful at as I want them to be successful but push themselves. We discuss this from the very beginning. Some students may work at the Avenger level for laps, but struggle in other activities, and that's okay. I give them 5 minutes to work at the most. It also frees me up to move around and help with their form and I can ask the kids I think are doing well to go to another level.
Teacher note: Students will run to you and let you know if they reach Avenger status! They are always excited and get right to work.
Teaching Suggestions:
I purchased a Marvel poster with all the Superheroes in the universe. All the students pick a Superhero they want to be. Bat Girl and Wonder Woman are popular among the girls. The boys like Thor, Superman, Batman, and Spiderman.
I also made a poster with the Superman Symbol that says Super Strong on it and then the levels.
Adaptations for Students with Disabilities

Depending on the disability, this adapts easily, change activities, give a personal card with exercises suited to my students that have autism to work with their aide.
Submitted by Kim Steigerwald who teaches at Ross Local Schools Morgan Elementary School in Hamilton, OH. Thanks for contributing to PE Central! Posted on PEC: 1/4/2017. Viewed 15892 times since 12/6/2016.
Avenger/Superhero Fitness Differentiated Warm Up

---
Previous Comments:
There are currently no comments to display. Be the first to add a comment!
---
---