Name of Activity:
Pumpkin Stations
Purpose of Activity:
To learn different ways to be active during the fall months using a Halloween Theme.
Prerequisites:
Students would need to know basic exercises, body composition, aerobic activities, how to use a stop watch, and names of basic PE equipment
Suggested Grade Level:
3-5
Materials Needed:
20 cones, one tarp, shredded paper, small ojbects for a treasure hunt, 4 baseball bats, 6 stopwatches, 7 large pumpkins, 5 tiny pumpkins, 1 medium pumpkin, station instructions, 3 hula hoops, 3 notebooks with pens, jar of pumpkin seeds (precounted)
Station instructions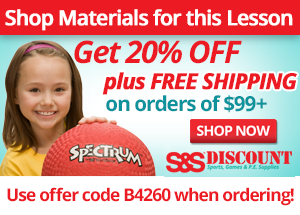 Description of Idea
Note: The main goal was to give students ideas of how to be active with their families during the fall months, but it also allows for other learning/feedback to take place.
Students go from station to station completing each activity. (see station instructions)
Station 1 Treasure Hunt.
Tell students they can do this at home with a pile of leaves (how do they get a pile of leaves?! Perhaps an aerobic activity of raking!!).
Station 2 Pumpkin Name
Tell students besides a clever name, try a name that is health/fitness related with a reason behind why (example, ďwe named the pumpkin Roids because people who use steroids have veins popping out and the pumpkin was red which made me think he was angry, another steroid sign"). Itís fun to hear them reason and rediscover what they already know and what they have learned (maybe they learn from each other too?)
Station 3 Seed count
They guess the count, but at the end get to see the size of the pumpkin the seeds came from (huge one). They are shocked it didnít have more, which goes to show you canít judge a book by itís cover. And we talk about fat vs. muscle on humans.
Variation- have two jars and let the kids discuss why one pumpkin had more seeds than the other and how that relates to how humans are made up.
Station 4 Pumpkin Weight
Students try to guess how much each pumpkin weighs (similar discussions as the seed count)
Station 5 Pumpkin workout
Easy to workout at home without weights! I tell the kids I can do ALL exercises on the list with my children at home instead of pumpkins or weights. We brainstorm what else could be used at home.
Station 6 Pumpkin Shuttle
Kids like to compete and itís simple. Fun for the whole family. They can predict who would win in their family and test it out at home.
Station 7 Hula Hoop Toss
Another game for the family to try at home. Possibly a version of disc golf, depending on yard size.
They also have to keep track of points or can make a game out of it (like ladder golf rules with cancellations)
Station 8 Pumpkin relay
Teamwork and problem solving!
Station 9 Pumpkin Push
Problem solving, fun, competitive
Assessment Ideas:
The pumpkin naming station allows you to see if they have a grasp on terminology and application of those terms.
You can have written statements of how they problem solved at the group stations.
Submitted by Emily Rennicke who teaches at Sauk Prairie Middle School in Sauk City, WI. Additional authors for this idea were Kandy Sauer. Thanks for contributing to PE Central! Posted on PEC: 1/4/2017. Viewed 17336 times since 10/26/2016.
Pumpkin Stations

---
Previous Comments:
There are currently no comments to display. Be the first to add a comment!
---
---