Name of Activity:
PE Pockets for Attendance & Assessment
Purpose of Activity:
To minimize wasted time when students enter the gym while taking attendance and to also provide a quick and easy way to assess students during class.
Suggested Grade Level:
3-5
Materials Needed:
Manila folders
Computer to print out PE Pocket design on paper
Velcro
Paw prints (or something that is related to your school mascot)
Library card pockets Popsicle sticks Plicker cards Stapler Laminator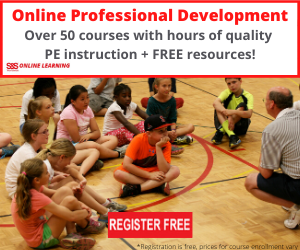 Description of Idea
Ever since I started teaching elementary physical education, I had students sit in squads to take attendance. This really wastes too much time, so I was brainstorming ideas to solve this problem. I came up with a new idea this year called a "PE Pocket".
There are 25 PE Pockets (see pictures below) on the wall throughout the gym. Each pocket has its own number and students will be assigned a number during their first class of the year. As soon as kids come in the gym, they will go to their PE Pocket to take attendance. They will flip the popsicle stick with a red apple upside down to the handprint side. That will show me that they are here. All I need to do is look around the gym and if I see a red apple, I know that number student is absent. At the end of class, all students will flip their popsicle stick back to the red apple so it is ready for the next class.
After students take attendance using the pocket, they will look inside their pocket for a "please do now" (not pictured below). This will be a piece of paper that tells the student what they should do now. The "please do now" might be exercises, a partner activity or it might even just say to get a piece of equipment and go to a certain location in the gym.
A few other things about the PE Pocket
-Kids will assess themselves at the end of every class by moving the paw print (our school is the wildcats) to show how they did during class-either Excellent, So-So, or Not So Good. The paw print can be moved using velcro.

-A plicker card (to be used with the Plickers Assessment App) will always be in each pocket for quick assessments.
Pictures
Variations:
This can be modified in many different ways to suit your needs.
Assessment Ideas:
Students can self assess at the end of each class by moving their paw print to excellent, so-so, or not so good. Also there will be a plicker card in the pocket that students can get out to answer questions.
Adaptations for Students with Disabilities

The PE pockets will be hung up on the wall. Provide some pockets that are lower than others so that people who are shorter can still use them or someone in a wheelchair can still reach it.
Submitted by Chance Condran who teaches at Halifax Area School District in Harrisburg, PA. Thanks for contributing to PE Central! Posted on PEC: 8/25/2016. Viewed 20548 times since 8/24/2016.
PE Pockets for Attendance & Assessment

---
Previous Comments:
There are currently no comments to display. Be the first to add a comment!
---
---