Name of Activity:
Partner Raceway
Suggested Grade Level:
3-5
Materials Needed:
Cones for boundaries, 20+ yarn balls or any throwing objects.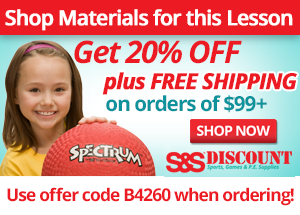 Description of Idea
Partner Raceway is a great instant activity to get all students moving quickly. I start using this warm-up about a month before our physical fitness testing to get them prepared for the tests. My students really like this warm-up and are always asking to do it!
Set four cones on the corners of the volleyball court. This will help set up a "raceway."
Students will need one partner and one yarn ball for the both of them.
Students need to decide who is partner #1 and who is partner #2. Partner #1 will be on the raceway track. Partner #2 will be on the basketball sideline directly across from their partner with the yarn ball in hand.
Make sure the students use all four sides on the basketball court so they have enough space for the activity. The volleyball sideline/endlines and the basketball sideline/endlines make up the raceway track.
The teacher will cue the students, "Partner #1 get ready, Partner #2 Jumping Jacks - set go!" During that cue Partner #2 will toss the yarn ball to partner #1 and Partner #1 will being running just one lap around the raceway. During that time Partner #2 will be doing the Jumping Jacks. When Partner #1 gets back to Partner #2, they will toss the yarn ball to Partner #2 and switch roles in the exercises. Once Partner #2 completed just one lap, both partners will job in place on the basketball endline until all students complete. When the teacher sees that everyone is done they will again cue, "Partner #1 get ready, Partner #2 push ups - set go!"
I usually start with 5 rounds with different exercises for each round. As they progress I will add more rounds and talk about how endurance helps us perform.
I tell the students although this is not a race we want to be trying out best. It sets the students accountable for their partner, because if they are not going to try their best, their partner will also be effected.
This would also be a great activity for Middle School and High School students.
Variations:
Give Partner a High Five instead of throwing a yarn ball.
Don't have students jog in place and wait for other students. Give them the set rounds and work with their partner until complete.
Submitted by Kalie Kirchhof who teaches at Earlham Elementary in Earlham, IA. Thanks for contributing to PE Central! Posted on PEC: 2/16/2016. Viewed 28687 times since 2/3/2016.
Partner Raceway

---
Previous Comments:
There are currently no comments to display. Be the first to add a comment!
---
---