Name of Activity:
Throw and Catch Challenge Warm Up
Suggested Grade Level:
3-5
Materials Needed:
Yarn balls, foam balls, or any equipment that you want students to throw and catch.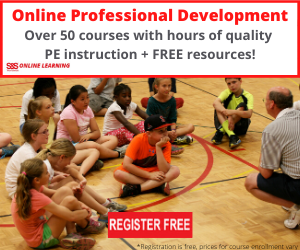 Description of Idea
Have all of the students spread out and find a personal spot in the gym. Give half of the students a ball. On the music or start signal have the students jog anywhere in the gym.
When the music stops, or on a 2nd stop signal students freeze where they are. The teacher yells a number and a type of throw (e.g., 10 overhand). Students with a ball then find a student without a ball and perform 10 overhand throws. It is important that they not start throwing and catching until ALL students have found a partner and students with balls should throw to the closest student! When they are done with their ten throws and catches they will continue to walk, skip, etc. around the gym. I usually start the music again after I give the command of number of throws and type of throw.
After about 20 seconds stop the music again the teacher yells out another number and type of throw (e.g., 11 underhand throws). Students find a different partner to play catch with and perform 11 underhand throws. Again, have them move around the gym when they are done.
If a student cannot find a partner quickly have them stop where they are and wave their hands high in the air. They should be able to quickly find another student that also has their hands waving.
I do this for about 3-5 minutes.
Other types of throws I have the students try:
Non dominate hand
Under the leg
Backwards throw
Behind the back

Teaching Suggestions:
Students should not start "throwing" until all students have a partner.
Students with balls should throw to the closest student.
Submitted by Kalie Kirchhoff who teaches at Earlham Elementary in Earlham, IA. Thanks for contributing to PE Central! Posted on PEC: 1/14/2016. Viewed 74775 times since 12/16/2015.
Throw and Catch Challenge Warm Up

---
Previous Comments:
| | |
| --- | --- |
| Mary Kaye Roper | Trying this as my warm-up today! I'll let you know how it goes :) |
| sheriff | |
---
---