Name of Activity:
12 Days of FITmas (Core/Cardio)
Purpose of Activity:
To engage students in a cardio activity in a fun and challenging way.
Prerequisites:
Instruction of all skills that will be performed.
Suggested Grade Level:
9-12
Materials Needed:
Medicine Balls, Jump Ropes, Mats, Plyo Jump Boxes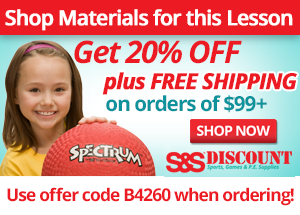 Description of Idea
This workout is run just like the 12 Days of Christmas song. The number of the day of FITness coordinates with how many repetitions you do of that activity.
This is an example of how this would work:
1. 1 lap
2. 2 burpees and 1 lap
3. 3 tuck jumps 2 burpees and 1 lap....
4. etc.
(Continue this throughout the 12 days of Christmas song)
This is the list I use, however you may substitute your own list:
1. lap
2. burpee
3. tuck jumps
4. body v's
5. crossing jumping jacks
6. spider abs
7. jumping jacks
8. switch split lunge (plyo lunges)
9. box jumps
10. jump ropes
11. sit ups / crunches
12. medicine ball twists
Variations:
This can be modified in any way to fit your class fitness level.
I also use the same concept in the weight room for a 12 Days of LIFTmas.
Submitted by Jennifer Mills who teaches at Central R3 in Park Hills, MO. Thanks for contributing to PE Central! Posted on PEC: 1/19/2016. Viewed 59513 times since 12/15/2015.
12 Days of FITmas (Core/Cardio)

---
Previous Comments:
There are currently no comments to display. Be the first to add a comment!
---
---