Name of Activity:
Warm-Up Fitness Circuit
Purpose of Activity:
To start each class with a warm-up for a designated amount of time that students will be able to perform at their own pace/skill level.
Prerequisites:
Teacher will demonstrate and have students practice the different exercises
Suggested Grade Level:
6-8
Materials Needed:
Chart for the wall
Laminated exercise cards
stopwatch
music to play while the kids are exercising (optional)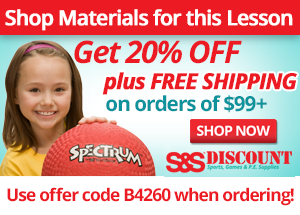 Description of Idea
As soon as the kids arrive they should read the chart on the wall that says:
Today's Individual Warm-up (If all the exercises are completed, repeat until the time is up)
10 ____________________ (whole body exercise)
10 ___________________ (upper body strength)
10_____________________ (leg exercise)
10______________________ (abdominal / stomach exercise)
*Teacher chooses the amount of time that the students will be doing this warm-up and monitors correct form as students perform the exercises at their own pace in their own warm-up spaces.
**Some exercises for each category that the teacher can give as choices for the students to choose are;
whole body exercises--jumping jacks, burpies, scissors on a line, ski jumps, mountain climbers
upper body strength--push-ups, holding self up like a table and switching which hand holding self up with, reverse push-ups, holding self low to the ground
leg exercises--calf raises, wall sits, lunges
abdominal exercises--curl-ups, forearm planks, bicycles, scissors with legs laying on back
Teaching Suggestions:
The teacher can choose a student each class to choose the warm-up making sure that they are choosing an exercise from each category.
Submitted by Katie Wesseling who teaches at Frisbie School in Wolcott, CT. Thanks for contributing to PE Central! Posted on PEC: 9/4/2015. Viewed 34263 times since 9/2/2015.
Warm-Up Fitness Circuit

---
Previous Comments:
There are currently no comments to display. Be the first to add a comment!
---
---