Name of Activity:
Field Day Opening Activity
Purpose of Activity:
To encourage schoolwide camaraderie and physical activity and fun before field day begins.
Suggested Grade Level:
K-12
Materials Needed:
One large, loud bullhorn or speaker system, and ENTHUSIASTIC first graders!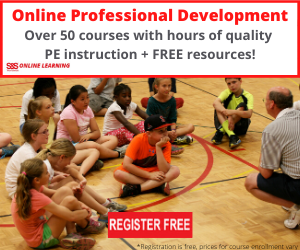 Description of Idea
I wanted the opening activity of our Field Day to be a "whole school" "feel good" activity. I asked our FIRST GRADERS, with much excitement in my voice, if they would like to LEAD THE WHOLE SCHOOL in a warm up for our Field Day. They were SO EXCITED to do this! I told them I would give them a day to think about which warm-up they would like to lead the school in.
The next day, I went into the first grade classroom and we drew names to see who got to choose first. They had to show me their warmup, and if I approved, they would get to do it! So that is how we fairly chose the warmup exercises and who went first.
The Field Day arrived, and the WHOLE SCHOOL got in a HUGE circle. I was in the middle, and I called out the first student to the middle of our large circle. Each first grader SPRINTED to the middle of the circle, they were so excited! When the first student arrived, I shouted, "HEY EVERYBODY, this is 'JIMMY!'" Then everyone yelled, "HI Jimmy!" Then I said, "Jimmy is going to lead us in ... (then I let Jimmy yell into the microphone, and he said,"Burpees!"). So the whole school did burpees! K through 12th grade! It was SO GREAT. A team-building way to begin our Field Day! I think it reminded the high schoolers how enthusiastic first graders are for any kind of activity, and since they were the big kids, they were also trying to impress the younger students with their ability to do some of these warmups! It was just a "win-win!"
Teaching Suggestions:
The teacher must have great enthusiasm when introducing the first graders! The first graders should RUN FAST out to the middle of the big circle! You don't have to ask them...they will do it as they are so PROUD to be leading the whole school!
Submitted by Mary cluley who teaches at Notre Dame Catholic School in Wichita Falls, TX. Thanks for contributing to PE Central! Posted on PEC: 6/11/2015. Viewed 16007 times since 6/8/2015.
Field Day Opening Activity

---
Previous Comments:
There are currently no comments to display. Be the first to add a comment!
---
---