Name of Activity:
Winter Cooperative Fun Groups
Purpose of Activity:
To get into groups quickly and independently.
Suggested Grade Level:
K-4
Materials Needed:
Lively music.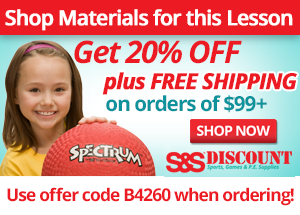 Description of Idea
Students will get into their own personal space scattered around the gym. When the music begins, all students will begin skipping around the gym until the music stops. When the music stops, everyone freezes and a command is given to get into groups based on the command or complete the command individually (students must learn commands prior to the activity).
1. "Snow Angel"- Individually lie on the floor and spread arms and legs apart quickly.
2. "Pair of Mittens"- Students get into a group of two and skip together holding hands.
3. Triple Toe Loop"- Students get into groups of three and hold hands. Together they will hold a front scale.
4. "Four Man Bobsled"- Students get into groups of four and sit in a line. Knees should be slightly bent and hands lightly holding the person's shoulder in front of them. Driver (front person) yells "Left" or "Right" and the whole team leans to that side.
5, "Skiing" -Students get into groups of five and line up side to side. Point the skis to the right and then to the left in unison.
6. "Snowflake"- Students get into groups of six and lie down on backs with heads together. Angle arms and legs to make unique flakes.
Use different locomotor movements to move around the gym.
Variations:
Commands can be changed based on grade level and season.
Submitted by Adrienne Dabbenigno who teaches at Dominion Trail ES in Ashburn, VA. Thanks for contributing to PE Central! Posted on PEC: 2/17/2015. Viewed 17998 times since 12/15/2014.
Winter Cooperative Fun Groups

---
Previous Comments:
There are currently no comments to display. Be the first to add a comment!
---
---