Name of Activity:
Get That Turkey Feather
Purpose of Activity:
To participate in a fun, holiday activity while working on chasing, fleeing and dodging.
Prerequisites:
Be able to move in space safely.
Suggested Grade Level:
1-2
Materials Needed:
2 laundry baskets with holes, 100 scarves, 2 turkey pictures.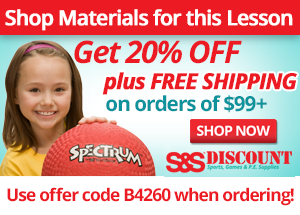 Description of Idea
Set up: Tape a picture of a turkey on each laundry basket and place at each end of the gym. Spread out half the scarves on each half of the gym floor, near the back wall.
The objective of the activity is for the children to try and get a turkey feather from the other teams' side and bring it back safely to your side.
Directions: Divide the class in half. Each team has two turkey catchers. The rest of the team is trying to grab "turkey feathers" (scarves) to bring back to their turkey. If a turkey catcher tags you and you don't have a turkey feather, you go back to your side and try again. If a turkey catcher tags you and you do have a turkey feather, you toss it into the air. If someone from your team catches it from the toss, they can attempt to bring it back to your side. If someone is able to get a feather back to their side without getting tagged by the turkey catcher, they put the feather in one of the holes in the laundry basket. Teams can cross the center line only to grab a scarf, not to tag someone. Once a team member is past the center line, they are safe.
Change turkey catchers often and "pluck" the feathers from the turkey each round so that the game resets. General rule is that students can only take feathers from the ground, and not from the turkey.
Variations:
Use one turkey, and do not have any turkey catchers. The students work together to put feathers on the turkey.
To add throwing and catching, you can have the children toss their feather in the air and if one of your teamates catches it, you can continue to the basket.
Submitted by Alanna Lenga in Vestal, NY. Thanks for contributing to PE Central! Posted on PEC: 6/15/2015. Viewed 29679 times since 11/20/2014.
Get That Turkey Feather

---
Previous Comments:
There are currently no comments to display. Be the first to add a comment!
---
---