Name of Activity:
Ghost in the Neighborhood!
Purpose of Activity:
To allow students to practice their throwing techniques.
Prerequisites:
Throwing
Suggested Grade Level:
1-3
Materials Needed:
Small gator-skin foam balls (one for each student), long rope to reach basket-to-basket, 4-6 inch length of narrow PVC Pipe, Ominikin Ball, sheet to cover the ball (to make it look like a ghost)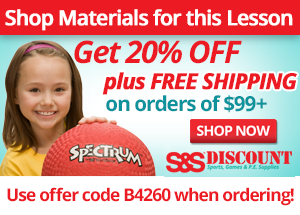 Description of Idea
Set Up:
1. String the piece of PVC pipe onto the rope.
2. Tie the Ominikin Ball to the PVC pipe, by using the rope that ties the bladder of the ball shut.
3. Attach the long rope from basketball hoop to basketball hoop (across the length of the gym).
4. Place the sheet over the Ominikin ball to make it look like a ghost is suspended in the air. Make black "ghost eyes" with magic marker or black felt.
5. Scatter the foam balls around the floor.
Directions:
Divide the students into two teams, each team at opposite ends of the gym. Explain to the students that Halloween is coming and there is this ghost that keeps trying to come into their neighborhood to steal all of their Halloween candy. The students have to save their neighborhood by picking up the surrounding "Pumpkins" (foam balls) and throw the pumpkins at the ghost to knock it out of their neighborhood! On the signal, pick up the "pumpkin"and throw at the "ghost."
Each time the "ghost" reaches one of the baskets, that team earns a point. Start the game again by placing the "ghost" over the center circle.
Variations:
Instead of getting a point have the class work together as one to move the "ghost" from one end of the playing area to the other end.
Lower the rope so that the ghost is lower to the ground, attaching it to portable standards, rather than the basketball rims.
Submitted by Daina Marsh who teaches at Canandaigua City School District in Canandaigua, NY. Additional authors for this idea were Mark Sayler. Thanks for contributing to PE Central! Posted on PEC: 6/15/2015. Viewed 33452 times since 10/22/2014.
Ghost in the Neighborhood!

---
Previous Comments:
| | |
| --- | --- |
| Coach L.P. | The Omnikin is pretty heavy for just a rope. We used a wire that is used to hold up our net for archery. Instead of foam balls, we used gator balls and the students had to work together to move the "ghost." If they went one at a time, the "ghost" would only move an inch or so. We also had two large gator balls out for help because those moved the "ghost" a lot better than the smaller dodge ball size. |
| Amy Sheehan | I was wondering if anyone has already tried this activity. I was wondering if the omnikin was too heavy for the foam balls. I was wondering what the score was, if you kept score. Please let me know if you have tried this and how it worked out for you. Thank you! |
---
---