Name of Activity:
Clock Warm Up
Suggested Grade Level:
K-5
Materials Needed:
Handout with a picture of a clock
, paper clip, pen/pencil.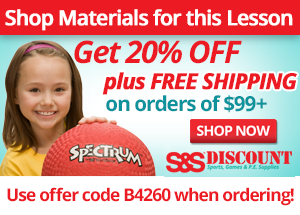 Description of Idea
The students will walk in and pick up the clock worksheet, paper clip, and pencil at the front of the class with a partner. The worksheet has a picture of a clock with different activities associated at each time on the clock.
The students will place the paper clip in the center and put the pencil/pen on it in order to spin the pencil on the paper clip. Students will complete the activity that the pencil is pointing to after stops spinning. The number of times they will do the activity is associated with the time on the clock (example: if it lands on 4 then they will do 4 ski jumps).
Variations:
Place numbers on the wall around the gym. If the pencil points to number 9 for example, students move to that number on the wall using a predesignated locomotor skill and complete the activity associated with the number nine, nine times.
Adaptations for Students with Disabilities

Instead of writing out the activity with each number have a picture of the activity so the children can have a visual explanation rather than only words.
Submitted by Madelyn Paul in Logan, UT. Thanks for contributing to PE Central! Posted on PEC: 2/25/2015. Viewed 42876 times since 10/10/2014.
Clock Warm Up

---
Previous Comments:
There are currently no comments to display. Be the first to add a comment!
---
---