Name of Activity:
WOW - Work-out of the Week
Suggested Grade Level:
3-5
Materials Needed:
A large whiteboard that the entire class can all see at one time, poster board could work as well.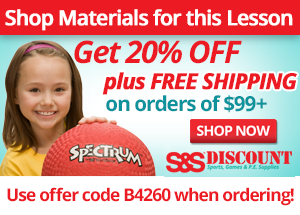 Description of Idea
Post the WOW (Work-out of the Week) on the whiteboard so that all students can see it as they enter the gym. It should consist of a series of 5 exercises involving strength, flexibility, endurance and agility.
Examples:
1. Bear Walk 30 feet
2. 10 Jumping Jacks
3. 10 Line Jumps (Ski Jumps)
4. 2 Inchworm Push-ups (Stand and reach toward toes-adapt by bending knees) Walk hands forward to plank position. Perform 1 push-up or modified push-up. Walk hands back to standing position.
5. Walking lunges (5)
The first time the WOW is used it is demonstrated by the teacher. The rest of the days that week that the students come to class they begin the work-out themselves since they are already familiar with it. Teachers may also need to demonstrate any of the exercises that the students weren't doing correctly or modify them if they seemed too difficult. For example, most students may not be able to do the seal walk for 30 feet so it can be shortened until they develop the needed strength and flexibility. Upbeat music is played and the students perform the WOW from 3-5 minutes based on grade level. Students keep repeating the 5 sets of exercises at their own pace. Their goal is to improve their sets of exercises each physical education class period.

Two other examples:
1. Crab Walk 30 feet
2. Hold 10 seconds in bottom of squat
3. Dot Drill 5 Times
4. Plank Hold 5 seconds
5. High Knee Skip 30 feet
1. Seal Walk 30 feet
2. Superman Stretch (lay on belly and put arms and feet in air like you're flying)
3. Broad Jump 5 times
4. Side Shuffle 30 feet
5. Vertical Jumps (5)
Variations:
Other combinations can be added; show pictures or video for the initial demonstration.
Assessment Ideas:
Have students track their progress using a tracking sheet that can be kept in a portfolio.
Teaching Suggestions:
I emphasize that this is not a race but a work-out that each student can hopefully work to improve their own personal sets during each class. I have my classes for 3 times in a 12 day cycle. I have them do one WOW for 3 classes and then I change it to another one. The students are excited to improve their scores each class and I often participate with them!! I would also suggest that you start with 3 minutes for 3rd, 4th and 5th graders.
Adaptations for Students with Disabilities

Adapt as needed, have the kids do less of an exercise, have them do modified versions such as modified push-ups, have them do some of the exercises like crab walk or seal walk for a lesser distance. For the students with learning disabilities, you may have to help them read the exercises on the board. I usually zone in on these students and really help them, read and understand what to do. I may stand by them and demonstrate the exercises again.You could also put another helpful student with them to help.
Submitted by Bonnie Rodgers who teaches at Crestview Elementary in Carlisle, PA. Thanks for contributing to PE Central! Posted on PEC: 2/17/2015. Viewed 42801 times since 10/9/2014.
WOW - Work-out of the Week

---
Previous Comments:
Liz

Is the progress tracked by how many/how far through the WOW they can get in the time allowed?
For example, on the first day let's say they make it all the way through once plus the first two of another round for a score of 7 and if the next time they make it through two complete rounds their score would be 10?
Thanks, Liz
---
---