Name of Activity:
Archery Poker
Purpose of Activity:
To improve student accuracy when participating in archery.
Prerequisites:
Basic archery skills that have been taught previously and safely.
Suggested Grade Level:
9-12
Materials Needed:
Archery equipment (bows, arrows, targets).
Real playing cards or teacher designed playing cards (these may be larger than the actual size of a normal deck of playing cards).
Each group will have a sheet with example poker hands ranked highest scoring (royal flush) to lowest scoring (high card) to use as a reference.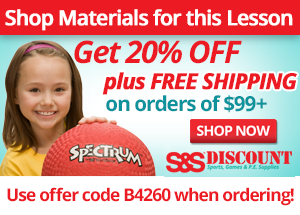 Description of Idea
The instructor will attach the playing cards to the archery targets. The students will be challenged to create poker hands listed on the reference sheet, while shooting a round of 5 arrows. The scores may go in any order to be counted as a hand.
A second challenge may have the teacher designating the order, such as Round 1 only 3 of A Kind,or in Round 2 only 2 Pairs will be counted. The teacher might build on this for additional rounds.
Additionally a third challenge might be to allow the students to compete with each other, to create the best 5-card hand using 5 shots.
Submitted by Justin Kinney who teaches at Ridge View in Holstein, IA. Thanks for contributing to PE Central! Posted on PEC: 7/25/2014. Viewed 19053 times since 3/24/2014.
Archery Poker

---
Previous Comments:
| | |
| --- | --- |
| hh | |
| Jessie | I love this idea. Since we're not supposed to play card games in school, I'm going to modify it to be Archery Yahtzee--still 5 arrows, and it can be an ongoing game between two people. Thanks for this idea! |
---
---