Name of Activity:
Spreading HIV
Purpose of Activity:
To demonstrate how quickly and easily STIs/STDs can spread to others and the victim not even be aware of it.
Prerequisites:
A small discussion about STIs/STDs to get the students accustomed to the subject matter.
Suggested Grade Level:
6-8
Materials Needed:
1 index card for each student, a rubber glove, pen or pencil for each student.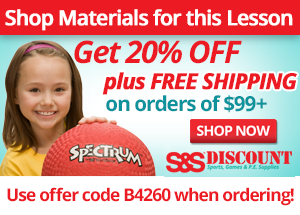 Description of Idea
Each student is give an index card. One student is given an index card with a dot drawn on it. The card with the dot signifies someone infected with HIV. DO NOT tell the students what it means in the beginning. Pass one rubber glove to a student and have them wear it. Instruct all but 1 student to travel around the room and to get 4-5 other names of classmates written on their card. The 1 student, tell them not to do anything or get any names. At the end, tell the person with the card to stand up in the front of class and explain this person had a dot on their card and it means they are infected with HIV. Have them name off every student on their card and then have those students come up fron and do the same. Make sure you tell the student with the glove to remain seated even if their name is called. Eventually everybody is upfront except the student with the glove and the student told to do nothing. Explain that everyone up front is now HIV positive and the student with the glove practiced safe sex while the other student practiced abstinence. Then tell the class that many of you did not even know you had it until I told you and that is very true of many victims.
Variations:
Stress how important it is to use restraint, have self-respect and to take into account all the risks involved in being sexually active. It is also important NOT to tell them they shouldn't (because they will) but to simply educate them on the severity of the risks involved in such actions.
Assessment Ideas:
Have them write a small journal on paper about what they have learned and maybe how they'd feel if they really did contract an STI/STD.
Submitted by Sean Emmett who teaches at Horizon Science Academy - Cincinnati in Cincinnati, OH. Additional authors for this idea were None. Thanks for contributing to PE Central! Posted on PEC: 5/7/2014. Viewed 28385 times since 3/2/2014.
Spreading HIV

---
Previous Comments:
There are currently no comments to display. Be the first to add a comment!
---
---