Name of Activity:
Halloween Blast Off
Purpose of Activity:
To practice following directions while enjoying a fun, Halloween activity.
Prerequisites:
Students will have had previous practice holding a parachute and lifting it up and down.
Suggested Grade Level:
K-2
Materials Needed:
A large parachute, one glow stick necklace or bracelet for each student, 4-5 foam balls with glow-in-the-dark tape attached.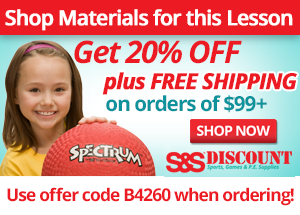 Description of Idea
Set up:
Spread the parachute out on the floor. Assign each student a handle on the parachute. Give each student a glow stick necklace or bracelet. Place the foam balls in the middle of the parachute.
Directions:
Tell students they will listen for different "Halloween" words, and perform various actions on cue. First, have the students practice the following actions with the lights on. Then when they look like they appear ready, turn the lights off for a fun, glowing activity!
1. Trick or Treat - the students will slowly pull the handles up and down from their knees to their shoulders. This should make waves.
2. Popcorn - the students will quickly pop the handles up and down as fast as they can.
3. Blast Off - the students will start with the handles at their feet. When the teacher says, "Up," the students will slowly lift their handles up. When the teacher says, "Down!," the students will pull their handles down to the floor in front of them as fast as they can. The foam balls on the parachute will shoot high in the air.
4. Midnight - the students will do the same as Blast Off, except instead of pulling the handles down in front of them, they pull the handles behind them and sit down to trap the air inside.
5. Ghost - while the students are inside the parachute the instructor will say, "Ghost!" At that time, the students will lie down on their backs and kick their feet in the air, kicking the parachute.
Assessment Ideas:
Through observation, check students's ability to follow the activity cues.
Adaptations for Students with Disabilities

If students are unable to grasp the parachute to perform the various actions, they can be assigned to pick up the foam balls when they bounce out of the parachute, and return them. They can be called "Trick-or-Treaters!"
Submitted by Jeff Hill who teaches at Whitewright Elementary in Whitewright, TX. Thanks for contributing to PE Central! Posted on PEC: 1/8/2014. Viewed 67142 times since 10/30/2013.
Halloween Blast Off

---
Previous Comments:
There are currently no comments to display. Be the first to add a comment!
---
---