Name of Activity:
Don't Drop the Ball
Purpose of Activity:
To demonstrate how taking on to many responsibilities and not planning ahead can effect your ability to complete tasks.
Suggested Grade Level:
6-9th
Materials Needed:
10 tennis balls or a ball that is similar in size. Nerf type balls in place of tennis balls would be best in smaller areas.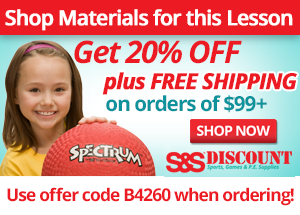 Description of Idea
Ask one student to come up that believes that they are pretty good at catching. Hold up a ball each time and say, "This tennis ball represents school, this tennis ball represents your after school sport, this tennis ball represents friends, sports, chores, school clubs, planning a birthday party, family, part time job (anything students in class may be involved in or have to do on a regular basis as well as anythings they would like to do with their free time.)
Attempt #1: Tell the volunteer to get ready to catch each responsibility but don't drop the ball on anything. Rapidly name off responsibilities as you toss tennis balls to the student. They will catch the first few but begin missing and dropping them. After all have been tossed ask the class why they dropped them or didn't even catch the tennis balls.
Attempt #2: Ask the student if it would be better to plan ahead or maybe say "no" to a few things ahead of time. Decide what is most important and what should be tossed last or not at all. Also ask if they would like to plan some breaks every couple of tosses to put things down and focus on the balls (responsibilities) coming up. The second attempt should be easier. Ask the class what they think made it easier and how do the tennis balls relate to real life responsibilities.
Assessment Ideas:
Have students watching write down their thoughts for the questions after the first and second attempt and collect to see if they were processing it but did not take part in the discussion.
Submitted by Tyler Hamby who teaches at Longfellow Middle School in Onalaska, WI. Thanks for contributing to PE Central! Posted on PEC: 5/14/2014. Viewed 51130 times since 10/24/2013.
Don't Drop the Ball

---
Previous Comments:
There are currently no comments to display. Be the first to add a comment!
---
---