Name of Activity:
The Toy Titan
Purpose of Activity:
To enhance the locomotor skills of walking, running, hopping, jumping, galloping, and sliding.
Prerequisites:
The student will be able to demonstrates the correct form for walking, running, galloping, and should have the ability to find their heart rate using the carotid artery.
Suggested Grade Level:
K-2
Materials Needed:
Timer
4-6 cones for the lap markers
1 wheeled trash barrel
3 to 4 baskets (laundry) full of various balls, rubber pigs/frogs/chickens, bowling pins, bean bags, tennis balls, etc.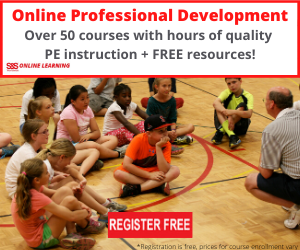 Description of Idea
The activity will utilize the outside of the basketball court with cones marking the corner turns and the sides. An empty wheeled (easier) trash barrel, (which is really the city of Polka Dot Cheese!), will be surrounded by heavy-duty cones and is put on the end of the gym that's closest to the start line. This barrel is where the "toys" (whatever you have in your equipment room that's small enough to carry) will be dropped. Three baskets (laundry) full of "toys" are spread out about twelve feet away from the dropping barrel. These baskets should be about five to six feet apart from each other, so there isn't a bottleneck created when kids first come in. The items are dropped into the barrel when they come around from finishing their lap. They continue to go around until the signal to stop is heard. After a time limit, (I use three to five minutes) I dump out the barrel and have the students count out how many items they have. I let the kids put them into groups of ten to make it easier, and also to incorporate math skills.
The Toy Titan
"You remember that we have been learning that by making our hearts beat faster when we are exercising, it will make our hearts stronger. That is a GREAT thing! Because I know all of you want to help your hearts get stronger, I have an adventure that will get your heart going, and will help children in the Land of Rainbow Mountains as well."
"In the city of Polkadot Cheese and the Land of Rainbow Mountains, the evil Toy Titan has stolen all of the toys from the children living there. They are very sad and need your help! Your mission? To secretly sneak fun toys in to the city of Polkadot Cheese! You will see your "secret" toy dropping spot, (empty wheel barrel) where all the toys are waiting for you to deliver!" After you make your delivery, grab another toy and be on your way!
"Your challenge? You have to be careful of the Toy Titan who flies from his cave from time to time. You'll never know when he is coming! He has a special radar in his horrible hideout that will go off if he sees you. If you perform the locomotor skills of walking, running, galloping, and sliding correctly, he will never see you dropping off toys on his radar. So, it is very important that you perform your locomotor skills exactly as how you were taught!"
"You will begin with a toy already in your hand. You will walk around the gym floor cones one time and drop your toy into the "secret" spot (empty trash barrel). After picking up another toy (only one toy at a time), you skip around the cones one time and drop your present into the "secret" spot. The third time around, you gallop around the cones. The fourth time, you slide around the cones." (Teacher changes the order of these) "We'll practice these skills a little bit before we start."
"Now, go get a toy and let's get ready to help children in the city of Polkadot Cheese! Be careful!!. If you are performing your movements incorrectly, the Toy Titan might show up!"
At the end of the activity, have students check their pulse (neck, chest, & wrist) and talk about the benefits of increasing your heart rate.

Teaching Suggestions:
You can have your regular warm ups before this activity and cool downs after. I use it during a 30 minute class period. You can change the length of time that works best for your class or age group. I've used it as a competitive motivator between classes (sections or grades) as well, and have given a free choice day to the class who retrieved the most "toys". Use your gym scoreboard so that they can see how much time they have left.
Classmates motivate each other to pick up their paces. They really like it! You have to be careful about what you put in the containers. Sometimes they will take too long to look for what they want to run with.
Make sure to discuss the importance of pacing with the children.

Submitted by Lee Clark who teaches at Elk Point-Jefferson CSD in Elk Point, SD. Thanks for contributing to PE Central! Posted on PEC: 3/10/2020. Viewed 148178 times since 4/18/2013.
The Toy Titan

---
Previous Comments:
Lee

Hi Annabella and Sophia! I haven't checked this for a while so I'm not sure what the date is on this, but I would be interested in your adaptations! I'm glad your kids enjoyed it!

Annabella Nelson K and Sophia Martin 2

They both know where carotid artery is now. This was a very fun Idea. The kids said it was a lot of fun. They both liked the Idea of the story, we went with it. Annabella had some ideas to change it a little and I enjoyed the laughing.

Lee

Hey Ronda! Thank you. Oooh. I like the hidden speaker idea! I'm going to try that next time. Perfect. Thanks!

Ronda

Great way to motivate the kids. Children love imagination. Versatile, ie use of colors or holiday themes w/toys. As for Titan, you could use a hidden speaker and make noises. He never has to be seen. Imagination! It would spark everyone, including the walker. Sounds like comfortable participation for the outgoing or the reserved child. Great job, Lee!

Lee

Hi Judy!
The Toy Titan lives in his "sinister cave". This is an imaginary character and place, but you can make up a type of cave using mats, etc. You, or another student, could hide and then "fly" around the gym from time to time, looking for Polkadot Cheese children not doing their particular motor skill. (running, skipping, etc.) Maybe they get taken to the cave and have to be rescued. Use your own procedure for that. I hope this helps!

Denny schommer

As an ex physical education teacher and holder of a masters degree in the same field i am uniquely qualified to say this activity is one of the 3 to 4 best ones i have ever seen next to the 1 or 2 that i have created, obviously. In all seriousness, well done Mr. Clark. A nice job of integrated activity i.e. wellness, skill development and cooperation/competition.

Judi

Who is the Toy Titan and when and how do they appear?

Lee
Garry

I like your idea. I'll give it a try!

Lee

Kyle...there is no set sequence or type of locomotor movements that you can use. Adapt it to however you like it. I do like the idea of progressing through the movement activity types.

Keishunda...there are many things you can do with handicapped kids. Wheelchairs can be pushed around the gym by a partner and can be assisted by that partner or they could go on their own for a lap and then get picked up by another student, etc. Students on crutches can sit on a chair and the items tossed to them so that they can be "slam dunked" into the barrels. I'm not sure the exact handicaps are that you are asking about but I hope that this helps!

Kyle A.

Toy Titan is a great activity implementing sliding, walking, running, and galloping. However, there could be a change in order. The first activity should be walking, then running, then sliding, and galloping last. Galloping may not be natural for young students to learn. The students will have to adjust to keeping their hips forward and sliding their foot behind the other to move.

Keishaunda

How can you accomodate a student of disabilty with this skill during physical education?

Lee

Another question...."What motivates the kids to keep going around the cones and where are the cones located?"
ANSWER: I put the score clock on and count it down from various times. You can be the judge as to how long you want them to go. I think 10 minutes is about right. The cones are located around the 4 corners of the basketball court. The comments listed below may help you as well.
Hope this helps.

Lee Clark

I have been asked what the toys are. They are bean bags, bowling pins, all kinds of balls, rubber chickens and pigs, scarves. Whatever you have that is able to be carried by one child will work perfectly! The variety of the equipment really motivates too as they want to get around faster to grab the really cool "toys" before someone else gets it.

Lee Clark

A few errors in the listing above! You use empty trash barrels/cans. They can be wheeled or not.
"hearts stronger; and," This should be "hearts stronger and that is a GREAT thing!" Sorry, some editing trouble by the PE Central editors. : ) The locomotor skills can be varied as listed above, but I just used the scoreboard clock and had a contest between grade sections to see who could get the most toys in the allotted time. I hope this clears it up a bit! Good luck!
---
---