Name of Activity:
Quiet Feet Jingle Bell Climbing Wall Activity
Purpose of Activity:
This exercise will teach students to place their feet on the best parts of the holds while using the correct areas of their feet while using a climbing wall.
Prerequisites:
Students should know how to safely use a climbing wall.
Suggested Grade Level:
3-8
Materials Needed:
Two jingle bells attached to rubber bands for each student using the wall.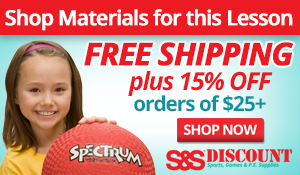 Description of Idea
Students traverse the climbing wall with jingle bells attached to their feet while making as little noise as possible. Students should focus on using the area of their foot under their big toe, or the outside of the foot for back stepping. Back stepping is the climbing term for using the outside part of your foot near your pinky toe. See video below.
Assessment Ideas:
A question and answer assessment can be done during the initial instruction. Ask the students to touch the correct parts of their foot (the area under the big toe, and the outside of the shoe under the pinky toe) to use while climbing.
Teaching Suggestions:
If you have access to climbing shoes you can show them to the students. Climbing shoes have a flat sole with soft "sticky" rubber that allows climbers to get the most use of the footholds. Climbers like to fit their shoes snug on their feet so that they can stand on small holds.
Adaptations for Students with Disabilities:
Students in a wheelchair may be able to use the handholds pull themselves across the wall while seated in their chair, or while lying on a scooter board. They can attach the jingle bells to their wrist and focus on moving their hands smoothly to the next hold.
Video:
---
Submitted by Travis Bateman who teaches at St. Philip Neri School in Linthicum, MD. Thanks for contributing to PE Central! Posted on PEC: 4/13/2016.

Viewed 26130 times since 3/15/2013.
---
---
Previous Comments:
| | |
| --- | --- |
| Hailey Caissie | I like to give consequences like 10 jumping jacks or balancing for 30 seconds on one foot each time we hear a bell jingle. |