Name of Activity:
Just Dancing in the Gym (Active Gaming)
Purpose of Activity:
To have the students develop and interpret different rhythmic and movement skills while demonstrating respect for others and self.
Prerequisites:
Talking to students about "life-long" activities that they can participate as an activity to maintain personal fitness.
Suggested Grade Level:
6-8
Materials Needed:
A projector with red and white audio ports, speakers, or if your school has an AV Rover, it is equipped with "AV Input "and has built in speakers, Complete Wii Console or another type of console, such as X-box 360 Kinect, Just Dance Wii Game, enough space for student to be able to have personal space at all times.
Here is a picture of the Wii console that I use on a cart.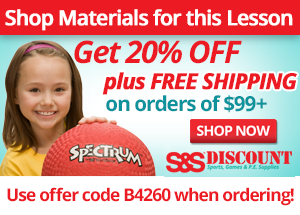 Description of Idea
Set up a Wii or other game console so that it projects onto a large enough screen where a large group can be able to see, so they can mimic the routine to the chosen song. Set up the "sensor bar" so students that want to participate with the Wii remote can be "judged" on their ability to mimic the on-screen dancer performing the dance routine. I only allow students who want to use the Wii remote to do the activity with because when using the remote, you are playing against another student where on the screen both students have a "bar that rates them on their moves. It will pop words up on the screen such as; "excellent, ok, perfect, good." The students who volunteer can choose a song that they both agree on to dance to.
There is a difficulty level indicator for each dance routine, from easy to difficult. The songs in the game are edited for any words or phrase of a song that is inappropriate. While the 2 students in the front of the sensor bar are dancing to a routine, the rest of the students are in personal space behind the students who are using the Wii remotes. Students will try their best to keep up with the movements and mimic the on-screen dancer as well, just without a remote.
I let the students know before we start that it is OK to mess up and that everyone should have respect for one another and their feelings, as everyone has a different skill level in dance. I also encourage the students not to worry about what they think other students might be thinking. They are in an environment where they can be free to express themselves through movement and to have fun!
Assessment Ideas:
This is an assessment idea that would be best done later so it does not have to be done after this lesson.
After doing "Just Dance" for at least 2 classes, you can have students get in groups of three and create a dance routine using the follow criteria:
Your dance routine must last at least 60 seconds. You will choose your own song and get it approved by the teacher to make sure the song is appropriate. All members of the group must have 1 solo part in the routine. Must use at least 3 dance moves from one of the Just Dance Routines. You cannot do the same dance routines as the routines in Just Dance. You must write out your routine to be handed in. Each student in the group will hand in their own written routine (1 group member should not do all of the writing/typing). Groups will then have the opportunity to perform their routine to the class.
Teaching Suggestions:
If you are not able to use a projector or hook your game system to an AV Rover, you can use a TV cart. Then you would be able to hook the game console up as you regularly would at home. Even though using a TV may make it difficult for all students to view, you can use it as a station if you were doing a gymnastics unit or just having a fun station day where the teacher can have a variety of stations that combine multiple units into one class.
Adaptations for Students with Disabilities

Students in wheelchairs who have the ability to use their feet can tap to the beat of the music. Students who use crutches or have poor balance control may use the wall as support. Students without the use of their feet can clap their hands to the beat of the music. You can also give students who have difficulty moving their body in different directions a juggling scarf to use as a flag movement to wave in the air to the beat of the music. Any student who fatigues easily or feels uncomfortable during the dance may take a break at any time and resume participation when they feel able. For students with learning disabilities, you can have students only choose songs that have an "easy" rating.
Video

Submitted by Jean Cornwell who teaches at Nativity of the Blessed Virgin Mary School in Williamsville, NY. Thanks for contributing to PE Central! Posted on PEC: 3/30/2013. Viewed 45589 times since 3/12/2013.
Just Dancing in the Gym (Active Gaming)

---
Previous Comments:
| | |
| --- | --- |
| mrs bull | |
| Ronald Lavine, D.C. | It's girls only. Any suggestions about getting boys involved in activities that feel like "dance"? My older son had a great experience in a dance class but at a certain age it got difficult for him when he became the only boy. Here are some of the activities I recommend for both girls and boys: http://www.yourbodyofknowledge.com/healthy-games-and-gym-activities-for-kids |
---
---