Name of Activity:
Wacky Tacky Ball
Purpose of Activity:
This activity is to engage a large number of students with constant movement as well as foster teamwork.
Suggested Grade Level:
6-8
Materials Needed:
6 basketball goals
8 light airy balls ("gator" balls would works as well)
Wacky Tacky Ball description and layout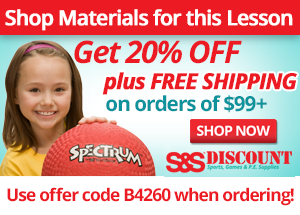 Description of Idea
I had large classes and needed an idea to keep everyone engaged in an activity so I came up with this idea. I have only tried it on junior and senior high students and classes that were mixed with both age groups. It worked very well and the students were active the entire class period. I ran 8 minute games. We are on an 8 block schedule so this worked perfectly.
The objective is to get the ball to your offensive team so they can score and to prevent the opponent from scoring. Divide the class into 6 equal teams. From there you should have them decide who is on offense and who is on defense. Try to make them as even as possible.
Click here to see diagram for set up of teams at baskets.
To start the game, place the balls in the middle of the court on the floor, with all team members on their own baseline. On the whistle, students will move to the balls to get one to give to their offensive team. Students are allowed to only get one ball or balls may be tossed in a scattered fashion to the baskets. Students are only allowed to pass or throw the ball to their teammates. No dribbling or walking with the ball is permitted. They may use any ball that comes into their court but they must stay on their designated court. There is no out of bounds.
After a basket is made, the defense immediately takes the ball and throws it to another defensive player in an effort to get in the direction of their offensive team members or directly to an offensive teammate. They are not allowed to shoot half or full court shots. They are not allowed to kick the balls. It is possible to have more than ball in their possession at a time. Defensive players are only allowed to play defensive on their opposing team as the court areas overlap each other. Each basket is worth 1 point and the offensive team is to keep track of their score. After a designated period of time, rotate one team from each basket in a clockwise direction. And go again.
Submitted by Linda Wilson who teaches at Triopia Jr-Sr High School in Concord, IL. Thanks for contributing to PE Central! Posted on PEC: 10/7/2013. Viewed 132214 times since 3/5/2013.
Wacky Tacky Ball

---
Previous Comments:
There are currently no comments to display. Be the first to add a comment!
---
---