Name of Activity:
Shoot, Pass and Score More
Purpose of Activity:
To encourage less-skilled members of the team to shoot the ball and to encourage the skilled athletes to pass the ball.
Prerequisites:
This concept can be applied to many sports or games. I just used it during my basketball unit and it worked great! The only prerequisite is that they need to be able to play a small-sided (3 v 3) scrimmage, which should only be attempted after they've learned and practiced many fundamentals and lead-up activities.
Suggested Grade Level:
6-8
Materials Needed:
You will need 1 basketball for every 6 students. You will need 1 basketball hoop for each group of 6 if you are playing half court basketball. You will need 2 basketball hoops for each group of 6 if you are playing full court basketball.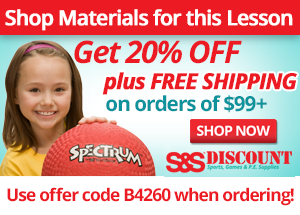 Description of Idea
My idea is an idea to encourage teamwork. The activity is small-sided basketball games. Did you ever watch students play small sided games? Did you ever notice one particular student (highly skilled athlete) does all the work for the team? This one student gets all of the rebounds, does all the dribbling, shooting and scoring. The other students become disinterested. If this has ever happened in your class, try this idea.
Tell them the team gets 3 points when each student scores their first basket, 2 points when each student scores their second basket, 1 point when each student scores their 3rd basket and 0 points when each student scores their 4th and each additional basket. This concept forces the "star player" to eventually stop scoring, because after his/her 3rd basket, it counts as zero points. This concept encourages all students to score once, to get the full amount of points (3). Then, it encourages each student to score again. I've watched this concept work numerous times in soccer and basketball games.
Submitted by Bob Wright in Richboro, PA. Thanks for contributing to PE Central! Posted on PEC: 3/30/2013. Viewed 103372 times since 3/5/2013.
Shoot, Pass and Score More

---
Previous Comments:
Donna

I like this idea and will give it a try in my
middle school pe class.
I've given players a point count - example:
ball hog gets one point for each basket made,
average player gets 3 points, not so tallented
10 points. (I think your way will work better
to encourage team play. I'm anxious to give it
a try.

Mr. M

Good idea. I sometimes make the rule, only two dribbles, to encourage more passing. Or the same person cannot shoot twice in a row.

Tim Morgan

Great idea. I have used the idea that you can start on 10 points and you loose a point for every unconverted attack and get 2 points for every successful attack.
Certainly sharpens things up

Raymond (Ray) J. Lassance

Great idea for B-ball. I have also used different colored balls for games like Dodgeball, so all types of skill players have to participate.Only very skilled can use one color or one side can use certain colors.Gater balls are very good for throwing, catching and getting hit.

Teri

Very nice idea! Such a simple idea, but I can see that it would encourage passing and teamwork. Well done!
---
---