Name of Activity:
North Pole Adventure
Purpose of Activity:
To practice locomotor skills while following along on an imaginary trip to the North Pole.
Prerequisites:
Students be be able to safely run, jump, gallop, and skip in general space.
Suggested Grade Level:
K-2
Materials Needed:
Parachute, small foam balls.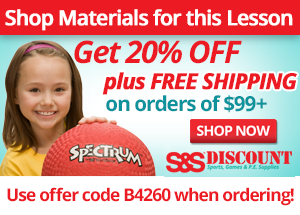 Description of Idea
When students arrive in the gym, explain to them that they are going on an adventure to the North Pole. Tell them they will be starting out asleep at "home" and will travel across high snowbanks to reach the train station. Tell them to follow along with what you do, as they listen to the story of their adventure.
1. Action: Lie down on the floor, as though asleep.
Say: "We are sound asleep in our nice, warm house. Oh! Time to wake up!"
Action: Stand up and stretch.
2. Say: "Let's put on our coat and hat and mittens! Don't forget your boots!"
Action: Pretend to be putting on those items and walk around.
3. Say: "Now let's go outside. Oh no! We can't see where to go because the snowbanks are so high! Look! There's a tree branch. Let's jump up and grab onto it so we can climb up!"
Action: Jump up, reaching arms up high.
4. Action: Put your hand on your forehead, as though peering out into the distance. Then point.
Say: "Now that we are up high we can see over the snowbanks. I wonder where the train is. Oh! I see it! I am so excited!"
Action: Start to skip around the gym, all the way to the train platform.
5. Say: "Let me have your train tickets."
Action: Hold your hand out to each student as they give you their imaginary tickets.
Say: "All aboard for the North Pole!"
Action: Form a single line, students hands on the shoulders of the person in front of them. Walk around the gym, pretending to be the train traveling north.
6. Say: "It's time for our first stop! Look! There are some reindeer!"
Action: Move like reindeer, galloping around the gym.
7. Say: "Time to get on board again!"
Action: Walk around the gym again, simulating a train.
Say: "Second stop! Oh look at the beautiful snowflakes!"
Action: Point up and turn all around, as though in awe of the beautiful winter sky.
Say: "Uh oh! A polar bear! RUN!"
Action: Run around the gym in general space, being aware of each student's personal space.
8. Say: "All aboard for the final leg of the trip!"
Action: Walk around the gym simulating a train.
Say: "We're here! The North Pole! We need to build an igloo so we can stay warm!"
Action: Stop and point to the parachute in the corner of the gym. Bring the parachute out so students can spread out around the parachute, grab the edge, raise it up, up, up and take a step forward, bringing it down quickly and sitting down on the inside edge, holding the air in like a tent.
9. Say: "I'm too excited to sleep! Let's play some parachute games!"
Action: Students can play "popcorn" where light foam balls are popped up in the air by making waves. The balls can be called snowballs. Other parachute games include Cat and Mouse, Switcheroo, Sharks, Merry-go-round, etc. Change the names of the games to fit the theme, for example, Polar Bears and Seals.
Variations:
The gym walls can be decorated with winter scenery, such as evergreen trees, snowmen, a sign that says "North Pole" and a train depot sign.
Assessment Ideas:
Students can be assessed in their ability to move safely in general space. A motor skills checklist can also be used to assess running, galloping and skipping form.
Adaptations for Students with Disabilities

A student in a wheelchair can participate in this activity by having a peer assist. When the "train" is formed, the student in the wheelchair can be the engineer at the front of the train.
Submitted by Jared Bernard who teaches at Young/Fairfield School in Saco, ME. Thanks for contributing to PE Central! Posted on PEC: 1/28/2013. Viewed 82870 times since 12/12/2012.
North Pole Adventure

---
Previous Comments:
| | |
| --- | --- |
| Heidi Anderson | I played this game last year at Christmas time and the kids went absolutely nuts! I can't wait to play it again with them next month! |
---
---