Name of Activity:
Ghosts in the Graveyard
Purpose of Activity:
To practice the manipulative skills of throwing, rolling, and striking a ball, using a Halloween theme.
Prerequisites:
Students have been taught the correct form of throwing, rolling and striking.
Suggested Grade Level:
K-2
Materials Needed:
Halloween music (optional), 12 bowling pins/12 white cloths (10in x 10in) draped over the top of the pin secured with a rubber band or tape, a face drawn on with marker to represent a ghost, 12 polyspots, 12 hula-hoops, gator skin balls (at least 15).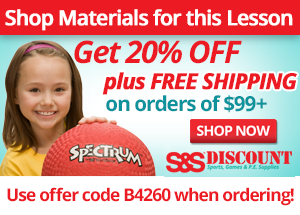 Description of Idea
Set up:
Using a basketball court or large playing area as a "graveyard," set up two halves with the equipment. The center line divides the two halves. Each half will have six hula hoops spread out, a polyspot inside each hoop, and a bowling pin (ghost) placed on each spot. The spots will help students to know where to replace the pins after they are knocked down, and the hoops are there to keep students from guarding the pins too closely. Scatter the balls on the floor, half of them on each side.
Directions:
Divide the students into two teams. Explain that they will be trying to knock over the other team's "ghosts" by rolling, throwing or striking the ball with their hand. Kicking the ball is not allowed. No one can cross the center line. Have one student guarding each "ghost" while the others attempt to knock down "ghosts." The game will start on the signal, or when the music starts playing. When all the pins are knocked down on one side, reset the pins and start again with new "ghoulies" (guards).
Variations:
Instead of using the theme of "ghosts in the graveyard", you can use "pumpkins in a pumpkin patch." Switch the color of the fabric to orange and draw a jack-o-lantern face with a marker. Another fall theme could be "scarecrows in the cornfield" and the students could be "crows" trying to knock down the "scarecrows".
Assessment Ideas:
Using a skills checklist, assess each student for the level of skill. This could be a pre-test or a post-test, depending on the age level.
Teaching Suggestions:
Adjust the amount of equipment according to the size of the playing area and the number of students.
Adaptations for Students with Disabilities

Students that are in a wheelchair can have a small ball bag that they can hold or hang on the side of the chair, where the student can have 5 or 6 balls in it so that child can have more chances (more time to actively participate) of rolling or throwing the ball to hit a target.
Submitted by Jean Cornwell who teaches at Nativity of the Blessed Virgin Mary School in Williamsville, NY. Thanks for contributing to PE Central! Posted on PEC: 1/24/2013. Viewed 75856 times since 10/21/2012.
Ghosts in the Graveyard

---
Previous Comments:
| | |
| --- | --- |
| Erin | Are the hoops/ghosts spread out around the gym or are they in the back, behind the team? |
| Lori Christopher | Are the kids getting hit with the balls too? how does the gym set-up look? |
| Jean Cornwell | To answer Chris Mercer's question, yes...when the pin is knocked over, the "ghoulies" do not have to worry about standing and guarding as they are throwing, now that the ghost is knocked down they can just focus on throwing. I like to have the kids make sure they are switching out guards or "ghoulies" so they aren't stuck playing the same position. |
| Chris Mercer | What happens to the ghoulies when there pin gets knocked down they are guarding? Are they throwers now. |
---
---