Name of Activity:
An Alaskan Summer
Purpose of Activity:
To engage students in creative, physical fitness activities and encourage the love of the outdoors and Alaskan summer activities.
Suggested Grade Level:
3-5
Materials Needed:
See Individual Activities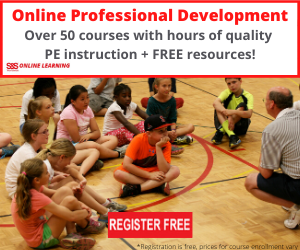 Description of Idea
Chugach Range Relay
Materials: Large backpacks, 8 cones, 4 water bottles, 4 Flags on stakes, stop watch (optional)
Object: Students start at the bottom of the hill. On the signal, they race up the hill with their backpack and water bottle- circle the flag and return to the bottom, passing off their water bottle and backpack to the next person in line.
LESS KIDS: Allow students to run up and around with a pack timing them or just a few against each other.

Leave No Trace
Materials: Trash picker-uppers, (found with summer toys at Target) cones, trash, (cans, wrappers, paper wads) 4 trash cans
Object: Students form a line behind a cone. The first person in each line starts with a 'trash picker upper." They run down to the opposite cone, pick up a piece of trash and bring it back to their trash can, then pass their 'trash picker-upper" to the next person in line.
Less Kids: You may time them or allow them to run down and back against one or two other players without the relay component.
Mosquito Swat Relay
Materials: Tennis Racquets, Spider Balls, Cones, Poles to hang Mosquitoes, stakes
Object: Students run from their cone, down to the mosquito, hit it two times with the tennis racquet and run back and hand the tennis racquet to the next person in line. Play continues until all players have had a turn. With fewer players allow them to race each other or play for fun.

Craft Tent
Materials: Large Tent, Tables, chairs and/or blankets for crafts, Designated materials for each craft: 1)Lanyards and Birch Circles to make Alaskan necklaces 2) Beads and string/wire/elastic to make bracelets and necklaces. Also, in the craft tents will be a variety of sports related books for any student who may need a break from Field Day.
Object: Students have the opportunity to create crafts based on directions given for each. 2 crafts will be available for students; Alaskan Birch necklaces and beading

Alaskan Grown
Materials: Pots, seeds, soil, Sharpie Marker, popsicle sticks for labeling with student name, watering can, hand wipes, large pop-up tent, tables
Object: Students get to plant a forget-me-not seed to take home.
Have students write their name on a Popsicle stick and poke it in their pot. Each student fills their pot, places a seed or two in their pot and gently waters it. Have students wipe their hands when complete.

Outhouse Races
Materials: 4 Cardboard Outhouses, 4 buckets, several rolls of toilet paper, cones
Object: Students start at their cone, run down with a roll of toilet paper, toss it in the bucket and run back to tag the next person who does the same. Continue until all players have had a chance. If there are only a few players, they may race each other or do it for fun until all the rolls are used.

Berry Picking
Materials: Berries (blue racquet balls), paper bags (optional), gunny sacks, cones
Object: Students hop down, pick a berry or more (scattered around the playing area), hop around the cone, and back to their partner who repeats the same thing until all berries have been picked.

Dipnet Dash
Materials: Fish Nets, fish, water toys, kiddie pool, 4 cones, 4 coolers
Object: Students form a line behind a designated cone. On the signal they run down with their net and grab one item at a time. Players must bring back one of each of the items. After one player has a turn, they hand their net to the next player who continues until all objects are obtained. Players place their catch in their team's cooler.

Beluga Bubbles
Materials: Bubbles, wands, water tables, sidewalk chalk, hula hoops, jump ropes
Object: Students have the freedom to play with bubbles on the hockey rink. Sidewalk chalk, hula hoops and jump ropes will also be available.

Moostacle Course
Materials: Reindeer Antlers, sleeping bags, Pop-up tents, firewood, bike helmets, blue tarp, etc.
Object: Students will take turns running through the obstacle course. This may be timed or simply a fun event. The obstacle course will be set up so 2 students may go through the course at a time. They first jump over the campfire, swim across the lake (tarp), crawl through the tents, weave in and out of the bike helmets, army crawl across the sleeping bags, run around the cone and sprint down the outside of the course back to the next person.

Alaska Airlines
Materials: Paper, landing strip/ pad (Hula hoops)
Object: Students design and make their own airplane and see who can land closest to the landing strip. They must take off (throw) from the designated areas.

Turnagain Tarp Toss
Materials: Blue tarp target with holes, footballs, Frisbees, softballs, etc.
Object: Students take turns attempting to toss the various objects through the holes of the tarp from the designated line.

Clam Gultch
Materials: Buckets, shovels, buried shells, treasure (erasers, glow bracelets, stickers, etc)
Object: Students may dig, explore and play with the buckets and shovels however they like. They may also search for the clam shells buried in the pea gravel, as well as buried treasure. Students may keep one treasure each.

Wildflower Toss
Materials: Bean bag toss board, bean bags
Object: Students take turns tossing bean bags through the board from a designated area.

Soccer Croquet
Materials: Soccer Croquet set- hoops, balls etc.
Object: Soccer is one of the top summer sports in Alaska. Students start at the starting stake and kick the ball through the hoops, moving through the course like a regular game of croquet. The object is to be the first to get back to the starting stake with the fewest kicks. Players take turns kicking. When they make it through a hoop they earn an extra kick.

Talkeetna Tug
Materials: Tug O Peace Rope, Spray paint
Object: Divide students into two teams. Line up the ribbon on the painted line (middle of the rope). On your 'call' students begin to pull. Remind them to stay safe. The team that pulls the other team across the mid-line first wins.

Water- 1st Aid
Materials: Water Jugs, Dixie cups, Cooler with bottled water for volunteers and ice packs for injuries if needed, Sign out sheets, fishing pole passes, Sharpie marker for labeling cups with student names.
Object: Students come to get water, receive first aid, get a pass to go into the building or simply take a break from the excitement.

The Alaska Zoo Injured Animal Race
Materials: 3-Legged Rubber Bands, Cones, Reindeer antlers
Object: Many of our animals at The Alaskan Zoo are injured. Students will act as an injured animal. They may be in teams of 2 or more. Teammates must each wear reindeer antlers, connect their ankles with the rubber band and on the signal, move together from their cone, down around the end cone and back.

Land of the Midnight Sun LIMBO
Materials: Limbo Set, Stereo, Extension Cord, Limbo Music
Object: Students form a line and attempt to walk under the limbo pole one at a time while bending back, without touching the pole. After each person has attempted a level, move it down a level and all remaining participants go through at the next level.

Seward Sea Sponge Relay
Materials: Two large garbage cans filled with water, accessible hose for refilling garbage cans, two small buckets, four or more sponges, stop watch
Object: Form two teams. On the signal, students fill up the sponge with water and races to the other bucket. The students squeeze water fro the sponge into the bucket, then race back and high fives the next person. All students on each team takes a turn. The team with the most water in the bucket wins, but remind the students that it's just for fun.

Eskimo Blanket Toss
Materials: Small parachute, variety of beach balls, rubber Alaskan animals (fish) etc.
Object: Gather as many students as you can around the parachute. Be sure students are holding with two hands. Have students hold the parachute down low and on the count of three see how high they can launch each ball just like the Native Alaskans.
Submitted by Sara Paulson in Anchorage, AK. Thanks for contributing to PE Central! Posted on PEC: 6/27/2012. Viewed 142312 times since 5/16/2012.
An Alaskan Summer

---
Previous Comments:
| | |
| --- | --- |
| Pat Kayser | I have used the Eskimo Blanket Toss idea with water balloons over a volleyball net. If you do not have enough small parachutes, you can use old donated towels. |
---
---