Name of Activity:
Litter Bug Tag
Purpose of Activity:
To practice an instant activity while learning the importance of taking care of our planet.
Prerequisites:
Students understand the safety concepts of moving in general space and know how to throw a ball overhand using correct form.
Suggested Grade Level:
K-2
Materials Needed:
two half-noodles, two green pinnies, many yarn or other soft material balls, container to hold balls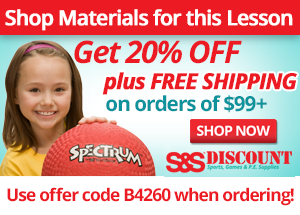 Description of Idea
Talk to the students about Earth Day and how we must do what we can to take care of our planet - every day! Discuss what littering is and how we can help clean up the world.
Select two students to be taggers - they are the "Litter Bugs." Select two students to be super heroes - they are "Captains Green Planet." The taggers will each have a tagging instrument (noodle) and the super heroes will wear the green pinnies. Place a "recycling bin" of yarn balls in the middle of the playing area.
On the start signal, the Litter Bugs will attempt to tag the students. Once tagged, a student will hold up two fingers in a "peace sign," run to the recycling bin, grab a yarn ball and throw overhand as far as possible. Once the ball is thrown, the student starts to run again from the Litter Bug. The Captains Green Planet will pick up the yarn balls, one at a time, and return them to the recycling bin - helping to clean up the world!
Continue playing for a few minutes and then select others to be the Litter Bugs and Captains Green Planet. Remind students to always watch where they are going. Litter Bugs must tag from the shoulders down, GENTLY!

Assessment Ideas:
Use a skills checklist to assess throwing form.
Adaptations for Students with Disabilities

A student with motor disabilities can have a peer assist with moving around in general space while being a Litter Bug or a Captain Green Planet. While fleeing from the tagger, a student with motor disabilities can use a signal to be "safe" from being tagged.
Submitted by Kathy Madura who teaches at Lincoln School in Oak Park, IL. Thanks for contributing to PE Central! Posted on PEC: 6/4/2012. Viewed 31412 times since 4/23/2012.
Litter Bug Tag

---
Previous Comments:
| | |
| --- | --- |
| Allison | My K-2 students loved this game! I didn't have the pinneys, so the Captains used scooters. |
| Kayla | I like the idea, but can you help me understand the significance of the tagged student showing the "peace sign"? Is it just to acknowledge that they have been tagged? |
---
---