Name of Activity:
EGGercise
Purpose of Activity:
The purpose of this activity is to promote increased fitness and effective teamwork.
Prerequisites:
Demonstrate the three proper ways to utilize a scooter (kneeling, sitting, or laying) and NEVER stand on top. Because scooters will be used be sure that students know to "park their ride" (flip the scooter over with wheels up) whenever it is not being ridden. Student must have a knowledge base of a variety of fitness activities such as push ups, sit ups, jumping jacks, half jacks, heel raises, body weight squats, lunges etc. Whatever your EGGercise tags are, be sure that your students can identify what that exercise is.
Suggested Grade Level:
6-8
Materials Needed:
Scooters (# depends on # of students and # of teams- aim for 1 scooter for every 2-3 students)
A large bucket
Plastic Easter eggs with "EGGercise tags" on the inside of the them
Easter baskets or smaller collection buckets
MUSIC!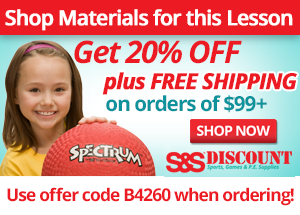 Description of Idea
Students will be divided into teams around the gym (team sizes depend on number of students in your class), each team should have 1 scooter for every 2-3 students on the team. In the center of the gym place a large (5 gallon) bucket filled with plastic eggs. Inside the eggs there should be "EGGercise tags" such as "do 5 push ups" "10 jumping jacks" "give your coach a high five" etc (BE CREATIVE!). Around the center circle place a basket or smaller bucket for each team to place their eggs into once they have completed the exercise. One student should start on the scooter and "scoot" in a appropriate way to the center circle, "Park their ride" (turn scooter with wheels face up) outside the center circle, select an egg from the bucket, open it, perform the exercise that is inside, place the completed egg in team basket and then return to team to allow for a second student to repeat the process. This continues until one team has filled the basket or you as the teacher decide that time has been reached.
View video of this lesson on You tube
Variations:
You could decide to place baskets at each teams starting point and each person to scoot to the center would have to bring the egg back to the team, everyone perform the exercise before placing it into the team basket.
Assessment Ideas:
If you are checking for execution of a specific skill- such as push ups or sit ups- you can watch for when students pull eggs that hold those tags and assess that skill while they perform it.
Adaptations for Students with Disabilities

Modify exercises based on the disability of the students in your class (you could provide a different basket to choose eggs from or place exercises that they student is capable of in side ONE COLOR egg and tell that student to only pull eggs that color).
Submitted by Kristal Kostiew who teaches at MSA West Academy in Addis, LA. Thanks for contributing to PE Central! Posted on PEC: 6/2/2012. Viewed 62787 times since 4/9/2012.
EGGercise

---
Previous Comments:
There are currently no comments to display. Be the first to add a comment!
---
---