Name of Activity:
Around the Room in 10 minutes
Purpose of Activity:
To brainstorm ideas about a topic as a group with increased difficulty after each time a group rotates since they cannot repeat any answers. Also can be used as a review or comparing and contrasting ideas about certain topics.
Suggested Grade Level:
6-8
Materials Needed:
5 poster papers, 5 different colored markers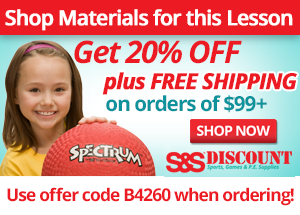 Description of Idea
Students are divided into 5 groups with about 5 in each group. The lesson is called Around the room in 10 minutes...therefore, they will make a complete circle around your classroom in the 10 minutes. This is used as a review for lessons you have completed the last couple of days in class.
We just finished learning about marijuana, alcohol, and tobacco so it works well with the topics I listed below. The students travel as a group. They only get 2 minutes at each station. Before class starts, you have set up 5 sections of your class with a piece of poster paper and a marker. Make sure the 5 markers are all different colors. At the top of each piece of poster paper is a different topic. You can make your topics anything you want but for this lesson it's about marijuana, alcohol, and tobacco. Therefore my 5 specific topics include:
Reasons why people start smoking
harmful short and long-term effects of alcohol
positive ways to say "NO" to any drug or alcohol
negative consequences of marijuana, and
harmful effects of smoking.
Students at the station will have to quickly write down with the marker provided as many answers as they can think of as a group. Once the 2 minutes is up, the teacher rotate the students. Students are to leave the poster paper there and take their marker. The next group coming will have to answer the same question but they cannot repeat any of the answers already listed. As they keep rotating it will get harder and harder because all the easy answers will be taken. You have the groups take the markers with them because then you can identify what group wrote what.
Once the 10 minutes are up, collect all materials, including the poster papers and discuss them as a class. Make sure to give praise for some higher level thinking answers provided by the groups. You can even discuss similarities and differences among the topics.
Assessment Ideas:
Hand out a form that asks questions like:
Two things I learned today were:
I helped my group by:
I showed my group and others respect by:
I demonstrated leadership today by:
Something from class that will stick in my mind is:
Submitted by Ryan Pugliese who teaches at Hamburg Area Secondary School in Lebanon, PA. Thanks for contributing to PE Central! Posted on PEC: 3/8/2012. Viewed 21404 times since 3/7/2012.
Around the Room in 10 minutes

---
Previous Comments:
There are currently no comments to display. Be the first to add a comment!
---
---