Name of Activity:
Knock the Pumpkin off the Fence
Purpose of Activity:
To improve throwing skills and locomotor skills in a combined activity.
Prerequisites:
Review cues for throwing and locomotor skills.
Suggested Grade Level:
K-2
Materials Needed:
Grocery sack ball or soft material ball, plastic jack-o-lanterns, 5 gallon buckets and 2x4's. If plastic jack-o-lanterns are unavailable use milk jugs with construction paper pumpkins tape to them.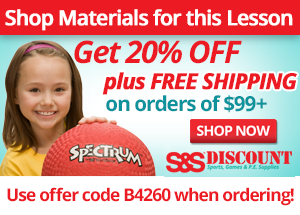 Description of Idea
Set-up: Use five gallon buckets and 2x4's for fence. Turn the buckets upside down and place the 2x4's on top to make the "fence" for the pumpkins to sit on. Make the fence long enough to fit your class needs.

Organize the Class: Divide the class into groups and place them in lines facing the fence. Each group will need a ball to throw.

Instruction: " When I say "ready, set, throw," the first person in each line will try to knock the pumpkin off the fence. The person that throws will retrieve the ball and hand the ball to the next person in line. You can have the students do different loco-motor skills as they return to their line. While the other students are waiting in line you can have them do exercises such as jumping jacks, sit-ups and push- ups so they are always busy.
Assessment Ideas:
Using the overhand throw rubric, check for correct throwing form. Also check for ability to follow multi-step directions.
Adaptations for Students with Disabilities

Use different items for throwing and shorten the distance. Have a peer assist with retrieving the ball, or use a ball on an elastic band that the child with motor impairments can retrieve him/herself.
Submitted by Randy Milligan who teaches at Blanche School in Taft, TN. Additional authors for this idea were None. Thanks for contributing to PE Central! Posted on PEC: 4/14/2012. Viewed 23476 times since 12/22/2011.
Knock the Pumpkin off the Fence

---
Previous Comments:
There are currently no comments to display. Be the first to add a comment!
---
---