Name of Activity:
Falling Leaves and Acorns
Purpose of Activity:
To keep eye on object and catch softly while bringing in elbows to chest to catch.
Activity cues:
Eye on scarf
Bring elbows into chest to catch the scarf
Suggested Grade Level:
PRE-K
Materials Needed:
Scarfs (leaves)
Scarfs with beanbags attached (acorns)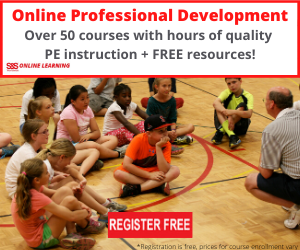 Description of Idea
This activity is best if done in the fall with colored scarves so that you are able to connect the name of the activity with changes in the students (autumn) environment.
Have students find a good self space and ask them to get a scarf. Ask them to toss their scarf into the air and then to catch watch the the scarf and bend elbows to bring scarf into catch it.
Teacher feedback is all about the eyes and the bending of elbows to bring scarf into chest.
For students who are doing well, they are introduced to the acorns and have to show quicker reaction time. To do this teacher carries some scarves with beanbags and hands to students who are doing well with the cues and catching.
Assessment Ideas:
1. Question/Answer
Which will fall quick (before the acitivity) and why?
When catching, what should your hands do? (grab at the scarf, clap at the scarf or bear hug the scarf)
Where should your eyes be when tossing the scarf? (focused on the target)
2. I will toss a scarf in the air to each student for a skills assessment.
Teaching Suggestions:
For students who are struggling, hold the scarf just over the students head and drop it or just at the students hand.
Submitted by Danielle Godin who teaches at Joel Elementary School in Clinton, CT. Thanks for contributing to PE Central! Posted on PEC: 1/13/2012. Viewed 98854 times since 11/10/2011.
Falling Leaves and Acorns

---
Previous Comments:
| | |
| --- | --- |
| Jesse Anderson | the scarf is lighter it falls slower than the leaf |
---
---