Name of Activity:
Halloween/Fall Stations
Purpose of Activity:
To practice previously learned skills with a variety of FUN Halloween-inspired games.
Prerequisites:
Students should know how to throw and catch using the mature pattern, and understand the safety procedures and rules for traverse wall climbing.
Suggested Grade Level:
3-5
Materials Needed:
Bean bag toss boards, bean bags, large black containers (cauldrons), frisbees, skeleton hands, eyeballs, cones, witches hats, deck tennis rings or small hula hoops, traverse climbing wall, duck walkers, miniature pumpkins, scooters, bowling pins, cheesecloth, gator skin balls, white balloons, paddles, putting hole, putters, foam golf balls, black cloth covered balls, mono fling nets or stretchy cloth, pedometers, styrofoam headstones, small parachute, orange foam ball, goal net, soccer ball, basketball hoop, basketball.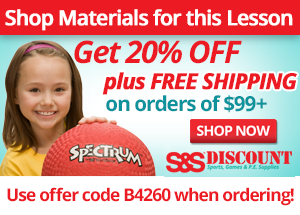 Description of Idea
Before the students arrive, the teacher will have the stations set up with the proper equipment at each station. Once the students arrive, the teacher will explain each of the station's rules and procedures. From the list of stations, select the number that works for the size of the class, the length of the class period, and the space available. Some stations require having a partner, so if the class is an odd number, have a group of three and take turns. For a 30 minute class of 24 students, select 12 stations and rotate to each station every few minutes.
Station #1: Candy Corn Hole
Set up: Arrange the bean bag toss boards and bean bags to allow for playing with a partner.
Directions: Toss the "candy corn" into the hole using an underhand toss.
Station #2: Witches Brew
Set up: Create "caudrons" out of laundry baskets or boxes, covered with black paper or painted black. Have frisbees available.
Directions: Attempt to toss the frisbee into the cauldron.
Station #3: Hand and Eye Relay
Set up: Get several skeleton hands and "eyeballs." These are available at party supply stores. You can also make your own eyeballs using ping pong balls and permanent markers. Set up cones for the start and finish lines.
Directions: Like the old-fashioned "Spoon and Egg" relay, speed walk to the cone and back without dropping the eyeball. If dropped, start over.
Station #4: Ring the Witch
Set up: Place witches hats over tall cones. Have deck tennis rings available or small hula hoops.
Directions: Throw the small hula hoops or deck tennis rings towards the witches hats, trying to make a "ringer."
Station #5: Hang Man
Set up: You need a traverse climbing wall.
Directions: Traverse the rock wall, and when you reach the end, see how long you can hang there.
Station #6: Zombie Walkers
Set up: Have "duck walkers" or other balance walkers available.
Directions: Walk around the play area, attempting to stay balanced.
Station #7: Pumpkin Patch
Set up: Create a curving path using mini pumpkins. Have scooters available.
Directions: Travel through the pumpkin patch while sitting on the scooter.
Station #8: Ghostly Bowling
Set up: Cover bowling pins with cheesecloth, and glue two small pieces of black felt on for eyes. Have gator skin or other foam balls available.
Directions: Attempt to knock over the ghosts by rolling the ball underhand.
Station #9: Floating Ghost
Set up: Blow up several white balloons and have lollipop paddles or ping pong paddles available.
Directions: Attempt to keep the balloon in the air by striking upward with the paddle.
Station #10: Pumpkin Putting
Set up: Have a miniature putt-putt hole, several putters, and foam golf balls available. Place miniature pumpkins around the putting hole to make it look like a pumpkin patch and to increase difficulty.
Directions: Attempt to putt the ball into the hole, using as few strokes as possible.
Station #11: Ghoul Fling
Set up: Wrap balls in black cloth to look like ghouls. Have mono fling nets available or use pieces of stretch cloth.
Directions: Use the mono fling nets or cloths to launch the ball into the air and attempt to catch it.
Station #12: Rattle Your Bones
Set up: Have pedometers available.
Directions: Wear a pedometer and jump around. See how high a number you can reach!
Station #13: Headstone Hurdle
Set up: Make two sets of styrofoam hurdles, 6-12 inches high. You can use foam hoop holders, covered with gray paper. Set them far enough apart so students can hurdle them while running.
Directions: Race your partner to the finish line!
Station #14: Pumpkin Chunk
Set up: Have a small parachute available and an orange gator skin ball.
Directions: Start with the parachute down low, and raise it up slowly, then pull down on the parachute, launching the orange ball as high as possible.
Station #15: GHOULLLL!
Set up: Have a goal net and soccer ball available.
Directions: Work against a partner and try to kick the soccer ball into the goal.
Station #16: S-K-U-L-L
Set up: Have a basketball hoop and a basketball available.
Directions: Play like the traditional game of "H-O-R-S-E", but spell "S-K-U-L-L" instead.
Assessment Ideas:
Teacher Observation: Teacher will check for students' ability to work well together in groups, take turns, stay on task, and use equipment correctly.
Adaptations for Students with Disabilities

All stations can be modified for students with disabilities. Students may move closer to targets, change equipment as needed to meet abilities, and be paired with others to complete tasks or skills.
Submitted by Matt Rogers who teaches at Medlock Bridge ES in Johns Creek, GA. Thanks for contributing to PE Central! Posted on PEC: 3/6/2012. Viewed 53816 times since 10/31/2011.
Halloween/Fall Stations

---
Previous Comments:
There are currently no comments to display. Be the first to add a comment!
---
---