Name of Activity:
Dribble and Go...
Suggested Grade Level:
3-5
Materials Needed:
- 1 Basketball per student

25-30 Dribble and Go... Cards (make your own and laminate them so they last longer. The front of the cards have a basketball picture on them and the back of the cards have the movement that the students must perform while dribbling), Music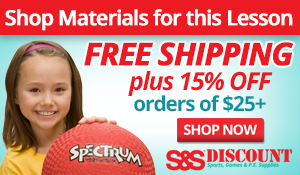 Description of Idea
Scatter the "Dribble and Go" cards on the gym floor. When students enter the gym they should get a basketball and go to their own space. On signal start the music. During the music the students dribble their basketballs and pick up a card. The backs of the cards have movement exercises that the students must perform while dribbling their basketballs.
Examples of exercises:
Hi five a partner 10 times in a row
Dribble the ball between legs 5 times
Dribble to 15 feet from wall, make two chest passes to the wall and return to moving in general space
Hop on 1 Foot for 15 seconds
Dribble with your elbows for 20 seconds
After completing the movement on the card they should move to another card and continue the activity.
Continue the activity for 4-5 minutes.
---
Submitted by Jason Steele who teaches at Perkett and Roosevelt Elementary in Minot, ND. Thanks for contributing to PE Central! Posted on PEC: 10/28/2011.

Viewed 44924 times since 10/3/2011.
---
---
Previous Comments:
| | |
| --- | --- |
| MM | is there a file of cards that are already made? |