Name of Activity:
Bag the Good, Trash the Bad
Purpose of Activity:
To get the students thinking about what they have learned throughout Health. Get them to choose the healthy food choices and options that lead to a healthy life style.
Suggested Grade Level:
6-8
Materials Needed:
Empty boxes or cans of food (good and bad foods), pictures of: good and bad foods, drugs, people exercising and activities that involve no exercising (like Xbox) and 4-5 trashcans or buckets, tape for a wall, 4-5 shopping bags (that you can save from any trip to the grocery store)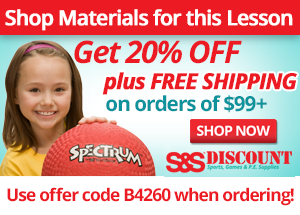 Description of Idea
This is a game that will make the students identify healthy foods, proper portion sizes, and good activities to be involved in that would promote a healthy life style.
The students will separate in to 4 to 5 groups; depending on class size it can be more, try to have 3-4 people per group.
Each group will start at a different station with a trash can or bucket. Each team will receive one bag and in that bag they will place the healthy food or life style option that they have learned about in class. At each station there will be bad options and good, healthy options; it's up to the students to take one healthy option away from the table and place one unhealthy option in the trash or bucket. Each group will communicate with one another to choose which foods they keep in their "shopping bag" and which get tossed. Then they will proceed to another station and do the same thing, until they have gone to each station and all of the stations have no more items remaining. The station ideas include:
- nutrition - healthy and unhealthy food options
- activities - physical activities or lack of physical activity (biking, hiking, swimming, from playing xbox, sitting inside while other kids are playing, etc.)
- drugs - choosing a pic. of a flu shot over a pic. of cocaine...
- alcohol - choosing orange juice over a shot
- relationships - choosing a happy married couple over a picture of an abusive relationship
Assessment Ideas:
Once all the teams are through each station, the teacher will get the students to come back together as a class. This will be the time for reflection and assessment. The teacher will ask each group to discuss why they chose certain items in their bag and what things they chose to throw away? Why were these items good to choose? Why where the items bad? Each student in the group should speak at least once, that way you can tell who actually understood what the assignment was testing and what students weren't sure about what was chosen
Submitted by stephanie raddatz in Wilmington, NC. Thanks for contributing to PE Central! Posted on PEC: 9/14/2011. Viewed 50747 times since 4/19/2011.
Bag the Good, Trash the Bad

---
Previous Comments:
There are currently no comments to display. Be the first to add a comment!
---
---