Name of Activity:
No Gym, No Problem
Purpose of Activity:
* Students understand how to demonstrate an upper body or lower body exercise with a household item provided and can identify the muscle group being used in the exercise. * Students will also know how to develop a new exercise with a household item of their choice
Suggested Grade Level:
9-12
Materials Needed:
Laundry Detergent, 2 cans of soup, large container lid, rope, chair/box, (3 handouts which will be provided through email)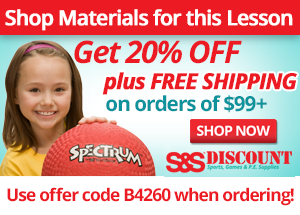 Description of Idea
1. Students are in groups of 3
2. Then hand out the muscle worksheet which represents both the anterior and posterior view of the muscles displayed in the body. Each group will complete one sheet, filling out the names of the muscle groups on the lines provided. Go over the worksheet once everyone has completed it, putting up the answers and seeing if anyone else got a different name for a muscle group.
3.The students will be given a handout with the directions and a chart for which is to be used later.
4. Each group will be given an object that can be found at home; they will need to come up with an exercise that can be performed with this object. They will also need to think of another object that can be used at home and come up with an exercise for that also. When coming up with the exercise they will need to use their previous knowledge of the muscles to determine which muscled group is being used. The teacher determines if the students are doing a lower body or upper body exercise so you don't see the same exercises.
5. Once each group has completed their 2 exercises, each group will bring their object up the front of the classroom and have one of the people perform the exercise, while one person describes what is going on and then other person talks about the muscle group being used after the description.
6. Assess/fill out the chart
7. Pass out the "No Gym, No Problem" handout and discuss things they missed or hadn't thought about
Assessment Ideas:
* When watching the presentations, the students should be filling out their chart, writing down the exercise, the muscle, and their own description of the exercise.
* When the students are performing their exercise in groups of 3, each student will have a task to complete.
- One student will perform the exercise
- One person will describe what the person doing the exercise is doing
- One person will talk about what group of muscles are being used

Submitted by C.L. Whiteside who teaches at UW-Stevens Point in Stevens Point, WI. Additional authors for this idea were Erika Minzlaff & Mark Krommenacker. Thanks for contributing to PE Central! Posted on PEC: 10/19/2011. Viewed 57372 times since 2/2/2011.
No Gym, No Problem

---
Previous Comments:
---
---