Name of Activity:
3 Team Basketball
Suggested Grade Level:
9-12
Materials Needed:
Gym or outside area with several basketball courts, two or three sets of pinnies per court and one basketball for each court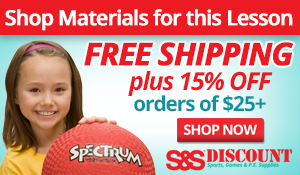 Description of Idea
Form students into groups of anywhere between 3-5. This will depend on your class size and facilities. Give the students different colored pinnies to identify their teams.
Team A begins at one basket, Team B is at the other basket while Team C begins at center court. Team C receives the ball and moves down the court to play against Team A. If Team C scores, they keep possession of the ball and they go down to play Team B. If Team A stops Team C from scoring or Team C violates a rule (i.e., traveling, double dribble, etc.), then Team A dribbles down and plays Team B. Team C stays at the basket where Team A was and waits. This continues in this manner until the teacher stops it (preferably only 5-10 min.). Feel free to keep score for each team if you want.
Rules:
Offense only gets one attempt at scoring. After the ball hits the rim the game goes the other way with the other team. So if offense keeps possession on a rebound they must give it to the other team.
---
Submitted by Patrick Cahill who teaches at Sauquoit Valley Central School in Sauquoit , NY . Thanks for contributing to PE Central! Posted on PEC: 3/9/2001.

Viewed 34397 times since 8/24/2001.
---
---
Previous Comments: