Name of Activity:
Partner Basketball Skills Card Warm-Up
Suggested Grade Level:
3 - 5
Materials Needed:
25 Laminated Cards with a Basketball Skill and the number of reps on each that will be performed with a partner. Music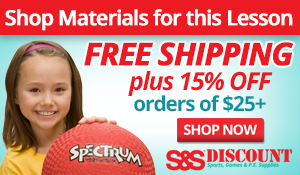 Description of Idea
Scatter cards around the perimeter of the play area (basketball court).
As students enter class they should get a partner, one ball, and find an area within the basketball court where they are in their own space. On the music, one student runs to get a card from the outside perimeter of the court, brings it back, and shares it with the partner. The students will perform the skill the appropriate number of times then exchanges it with a new card. Partners should take turns running to get a different card each time.
We usually perform this Instant Activity for 5-10 minutes once we have learned all of the basketball passes.
Here are some of the skills we put on the cards. Add your own!
1. 10 Chest Passes
2. 10 Bounce Passes
3. 15 Chest Passes
4. 15 Bounce Passes
5. 20 Chest Passes
6. 20 Bounce Passes
7. 10 One-Handed Bounce Passes using your Right Hand.
8. 10 One-Handed Bounce Passes using your Left Hand.
9. Shuffle the Length of the Gym while performing as many Chest Passes as you can with your Partner.
10. Shuffle the Length of the gym while performing as many bounce passes as you can with your partner.

(I would use these Skills and then make 2 of each)
---
Submitted by Jason Steele who teaches at Perkett and Roosevelt Elementary in Minot, ND. Thanks for contributing to PE Central! Posted on PEC: 11/11/2010.

Viewed 36475 times since 10/24/2010.
---
---
Previous Comments:
There are currently no comments to display. Be the first to add a comment!