Name of Activity:
Teamwork Hill
Purpose of Activity:
To encourage students as a class to behave appropriately in physical education class.
Suggested Grade Level:
K-2
Materials Needed:
Cut outs of fruits and vegetables (you can use magazines or some type of computer graphics), cut outs of ants with each class name printed on them, cut out a large brown hill and write Teamwork Hill on it.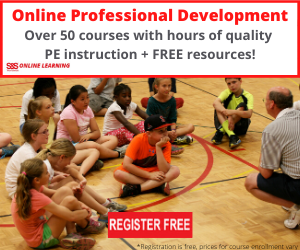 Description of Idea
Students receive a class score of 1-5 for appropriate behavior and participation during PE class. Here is the point break down and what they need to do to receive those points. The most they can get during one class period is 5 points.
1 = Entering the activity room quietly and in an orderly fashion.
1 = Listening and following directions during the entire class period.
1 = No time-outs during the class.
1 = Sportsmanship and working together for the entire class.
1 = Exiting the activity room quietly and in an orderly fashion.
The fruits/vegetables are hung from one end of the room to the other, ending at Teamwork Hill.
Each time the class exits P.E., move the class ant to a different fruit or vegetable. Each piece of food is worth 5 points, so some may be in between pieces.
The first class to get to Teamwork Hill earns a free day in P.E.
The students really enjoy seeing their ants move around the room! We also count by fives to see where their ant should be. The colorful food hung all around the room is also a nice decoration.
I emphasize that each class is a team. It takes all members of the team working together to get the ant to Teamwork Hill.
Submitted by Wendy Halford who teaches at Lomie Heard Elementary School in Blue Diamond, NV. Thanks for contributing to PE Central! Posted on PEC: 2/17/2003. Viewed 91393 times since 2/16/2003.
Teamwork Hill

---
Previous Comments:
| | |
| --- | --- |
| Sara Barrientos | These activities are very wonderful. The children in my class will enjoy to do these activities throughout the upcoming school year. I will implement these activities in my class. |
---
---