Name of Activity:
All-Star Award
Purpose of Activity:
To reinforce students for putting their best forward in class and for wearing the appropriate shoes on their P. E. days.
Prerequisites:
Knowledge of class rules.
Suggested Grade Level:
K-12
Materials Needed:
Baseball fields outlined on poster board for each grade level. Each class is represented on a baseball. A grid chart with all the teacher's names on it.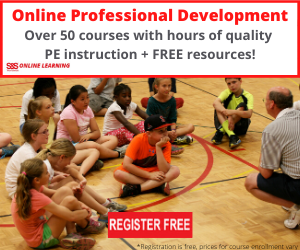 Description of Idea
We go over our rules (How to put your best foot forward) the first week of school and they are posted on the wall the entire school year. We talk about working together as a team and that the award is a team effort. The All-Star Award begins on the second week of school.
Each class starts at home plate. They have a chance to move two bases every time they come to P.E. (one base for putting their best foot forward during class and another base for if they all wore the appropriate shoes). When a class passes home plate a run is marked by their teacher's name on the grid chart. The class is awarded for every five runs. Pick out of the treat box for five runs, pick their activity on their next P.E. day for ten runs, and receives an extra day of P.E. for 15 runs.
This incentive program works very well. I have also done the same thing but with a football filed.
Submitted by Dawn Burke who teaches at Southeastern Elementary in Chesapeake, VA. Thanks for contributing to PE Central! Posted on PEC: 9/10/2002. Viewed 61342 times since 9/9/2002.
All-Star Award

---
Previous Comments:
| | |
| --- | --- |
| Ms. C | This sounds like an awesome idea. I would also love to see a picture for an example! |
| mrs. t | Great idea!!! could you show a picture how you set the grid up please. I will use this idea. |
---
---