Name of Activity:
Super Sneaker Award
Purpose of Activity:
To motivate the students to remember to wear their tennis shoes.
Prerequisites:
1.) Knowledge of why it is important to wear the proper shoes to class. 2.) Knowledge of how to encourage classmates.
Suggested Grade Level:
K-2
Materials Needed:
Poster Board to chart each class/at the top of the poster I have in bold, colorful print, "SUPER SNEAKERS". Each classroom teachers name is listed on the left hand side of the chart.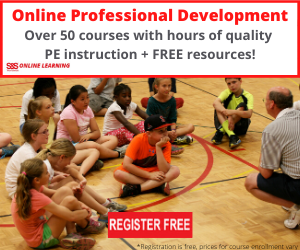 Description of Idea
Each time a class comes to the gym, I make a quick check of everyone's feet. If everybody in the class has on their tennis shoes - they get a sticker on the chart. When their class receives 5 stickers, they get a "Fun Day". This is a day where I set up various stations that they can rotate to throughout the class period. At the very beginning of the year, I let the students know how important it is to encourage their classmates to wear tennis shoes-instead of getting angry with those who forget. If a student forgets one time...it usually doesn't happen again!

Submitted by Lisa McKnight who teaches at Highland Oaks Elementary in Memphis, TN. Thanks for contributing to PE Central! Posted on PEC: 3/24/2002. Viewed 52305 times since 3/21/2002.
Super Sneaker Award

---
Previous Comments:
| | |
| --- | --- |
| Katie | I do not punish the students from Kindergarten and 1st because they do wear what their parents say to wear, and probably don't know any better to say they have PE. 2nd is kind of a iffy. 3-5, I have consequences because they are old enough to tell their parents they have PE that day. A lot of our students bring tennis shoes to leave at the school, as well. |
| Jonas Stevens | The problem in elementary school is that some of the students wear what their parents told them to wear. So this method punishes the whole class for a choice that maybe the student did not make, but their parents made it for them. |
---
---