Name of Activity:
Fit Bucks (Reinforcing Good Class Behavior)
Purpose of Activity:
To reward classes for following physical education rules while partaking in PE class.
Prerequisites:
Students should be familiar with the rules the teacher has set up in the class.
Suggested Grade Level:
3-5
Materials Needed:
Rules posted in the gym, classroom teachers name posted on wall, paper for fitbuck rewards.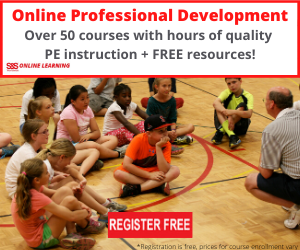 Description of Idea
One of the ways I reinforce students for following classroom PE rules is to reward them with Fitbucks. To earn Fitbucks students must work together to follow all gym and school rules throughout the entire time they are in PE class. 
PE Rules may include:
Good sportsmanship
Cooperation
Good listening skills
Follow directions in a timely manner
Fitbucks are awarded when the entire class follows all rules during their PE class. A class can earn only 1 Fitbuck per PE class. Once 6 Fitbucks are earned, the class can redeem them for a gym class activity of their choice.  The activity is voted on and the majority rules.  Once a Fitbuck is earned it cannot be taken away.     
I design my Fitbucks on regular paper, make copies in black and white and post them at the end of the class period. You can post the name of the classes on your wall and then put the earned Fitbucks under the classroom teachers name. That way students know how many they have.
After the class earns 6 they start over again.
Variations:
Could award a captain, hand him/her the Fitbuck and have them keep track of the Fitbucks earned in their classroom.
Classroom teacher could keep track of the Fitbucks earned.
Could have a contest amongst certain classes to see how many fitbucks could be earned in a month. Winning class gets a choice period.
Teaching Suggestions:
End class a minute or two early so you can discuss how the class did and tell them if they earned a Fitbuck or not. If they didn't tell them why and encourage them to do better next time.

Tell the class that even if 1 person breaks a rule, it can jeopardize the the earning of a Fitbuck.
Submitted by Stephanie Phillips who teaches at Squannacook Elementary School in Townsend , MA . Thanks for contributing to PE Central! Posted on PEC: 5/5/2000. Viewed 67037 times since 8/24/2001.
Fit Bucks (Reinforcing Good Class Behavior)

---
Previous Comments:
There are currently no comments to display. Be the first to add a comment!
---
---