Name of Activity:
Pathway Dribble
Purpose of Activity:
To allow young children the opportunity to explore dribbling a ball with their feet
Suggested Grade Level:
PreK-1
Materials Needed:
Jump ropes or tape, balls (preferably slightly deflated balls so they don't lose control) to dribble with feet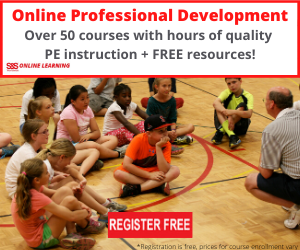 Description of Idea
Set up the playing area with different length jump rope or tape pathways. Have the children get a ball and take the ball to the beginning of one of those pathways.

On the signal have the students use their feet to move their ball through the pathway using "soft touches" with their feet. Have them use both the inside and outside of their feet when they are dribbling.
Teaching Suggestions:
Tape jump ropes to the floor to help keep them in place.
Use arrows to guide the children.
To vary the task (for the higher skilled) you may want to have students work in partners. Have one partner dribble the ball forward a few times, then gently pass it to his or her teammate. Play continues back and forth.
Submitted by Carol Totsky Hammett who teaches at St. Francis School in Bend, OR. Thanks for contributing to PE Central! Posted on PEC: 6/3/2008. Viewed 117677 times since 8/24/2001.
Pathway Dribble

---
Previous Comments:
Joe

This is a good idea, as it is similar to what you might do while introducing children to football (i.e. soccer).

However, the idea of partially deflating the ball is actually unsafe, as it increases the chances of the children stepping on, instead of making a soft touch on, the ball. This can make for some nasty falls.
---
---