Name of Activity:
Superfood Blind Taste Testing
Purpose of Activity:
To expose students to various different superfoods; some of which they have never heard of and/or tasted before.
Suggested Grade Level:
9-12
Materials Needed:
Dixie cups
Superfood Blind Taste Testing Power Point
(or
PDF
)
Two blindfolds and/or bandannas
13-15 different superfood samples (spinach, flaxseed, dark chocolate, pumpkin, etc.)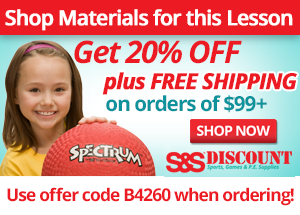 Description of Idea
Safety Note: Watch out for students with food allergies! Make sure that your taste testers do not have peanut/tree nut allergies, or if they are taste testing, make sure that you don't give them a food that they can react to.
Before class begins, you should have samples of 13-15 superfoods divided into two cups each (26-30 cups total). One set of samples is for Team 1 and the other is for Team 2.
Divide students into two different teams. Select 3-4 people from each group to serve as the taste testers, preferably individuals without any food allergies.
Blindfold the first two taste testers and place the first superfood in front of them (in the Dixie cups). At your signal, they can eat/drink it. The taster who is the first one to correctly identify the superfood earns one point for their team. After the food is identified, we will discuss the health benefits of that particular food via Google Slides.
Repeat until all superfoods have been sampled and discussed. I usually use 3-4 different testers to give a lot of people an opportunity.
Assessment Ideas:
Plickers assessment, any type of summative assessment as well.
Submitted by Brigid Radigan who teaches at Olmsted Falls High School in Olmsted Falls, OH. Thanks for contributing to PE Central! Posted on PEC: 4/7/2017. Viewed 12714 times since 4/6/2017.
Superfood Blind Taste Testing

---
Previous Comments:
---
---