Name of Activity:
Outerspace: Frontier for personal health & hygiene
Purpose of Activity:
Elementary-aged students learn to take responsibility for their own hygiene and self-care behaviors. Images of astronauts and space travel are ideal to engage the young learner in personal health content. This teaching technique is compatible with National Heath Education Standards One and Three. There are three lesson objectives. Students will: 1) Understand that germs spread infections, illness, and disease; 2) Identify practices that promote health and prevent disease; 3) Demonstrate good personal health habits including hand washing before eating and brushing teeth.
Suggested Grade Level:
K-5
Materials Needed:
Space-related illustrations, illustrations or photographs of a sick child and germs, colored construction paper, markers, crayons, paint, chalk and chalkboard, bulletin board, classroom set of stencils in the shapes of boys, girls, and astronauts, tissues, soap, paper towels, personal toothbrushes and toothpaste, letter to parents, daily record calendar page, and novelty stickers.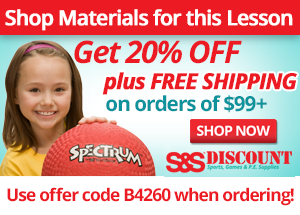 Description of Idea
Display a poster, or other illustration of the space shuttle and planned International Space Station ( http://spacelink.msfc.nasa.gov or http://www.nasa.gov/). Ask students to identify who will travel in the shuttle and live in the space station. Display photographs of astronauts sleeping, eating, bathing, and using the toilet. Discuss the new hygiene problems in a zero gravity environment (i.e. everything floats; toilets must be fitted with suction to contain wastes).
Ask student to contrast hygiene habits in space to those on earth. Highlight how much easier it is to maintain personal cleanliness at home and school, as compared to outer space.
Illustrate a sick child. Ask students to describe how he or she became ill. Define the word germ, "a small bacterium, virus, or fungus." Ask students how they feel when ill (e.g. upset stomach, hot temperature). Show photos of common pathogenic organisms, (e.g. a cold virus). Describe the body's defenses of skin and respiratory system that fight infections. Demonstrate common methods of germ transmission, (i.e. sneezing, coughing, touching toys and other people, touching a toilet). Invite students to either draw a picture of a germ as they imagine it, or act as a germ in a game of charades.
Ask volunteers to identify habits that promote health and prevent disease. List responses on the chalkboard including washing hands with soap and water BEFORE eating, AFTER sneezing or coughing, AFTER playing outdoors, AFTER playing with pets, and AFTER using the toilet. Other habits to emphasize include using tissues when sneezing or coughing, bathing and shampooing, and brushing teeth.
Students can create their own storybooks using construction paper and stencils. Encourage students to illustrate good personal health habits and decorate books with paint, stickers, markers, etc. Post story books on school classroom or hallway bulletin boards to encourage others to learn more about healthy habits.
Demonstrate using a facial tissue when sneezing or coughing. Use classroom or restroom sinks to demonstrate proper behaviors for hand washing and tooth brushing. Divide students into pairs to practice these habits.
Each student should bring home a letter to parents and a monthly calendar page to record hygiene behaviors at home. Reinforce these behaviors by recording students' daily hand washing at school on a large-format poster in the classroom using markers or novelty stickers.
Assessment Ideas:
Student participation in class discussion about personal health and hygiene behaviors; accuracy of student-created storybooks featuring good personal health habits; direct observation of students as they practice washing hands before eating daily snacks or lunch, and brushing teeth; data on daily record calendar page.
References:
1. Joint Commission on Health Education Standards. National Health Education Standards. Washington, D.C., 1995;
2. AL State Department of Education. Course of Study: Health Education. Montgomery, AL: Curriculum Assistance Section, 1997;
3. Andrews, SB & Kirschenbaum, A. Living in Space. Operation Liftoff: Elementary Space Program. Book I. Levels A, B, C for grades 1, 2, 3. Washington, D.C.: NASA, 1987;
4. Spence, S. Staying Clean and Healthy: Creative Activities for Teaching Basic Personal Hygiene Habits. Waco, TX: Health Edco, A Division of WRS Group, Inc., 1995.
Submitted by Brian F. Geiger who teaches at University of Alabama at Birmingham School of Educ in Birmingham, AL. Thanks for contributing to PE Central! Posted on PEC: 9/18/2018. Viewed 62047 times since 8/24/2001.
Outerspace: Frontier for personal health & hygiene

---
Previous Comments:
There are currently no comments to display. Be the first to add a comment!
---
---