Name of Activity:
Around the USA Fitness
Purpose of Activity:
The purpose of the activity is to have students improve their physical fitness while practicing the geography of the United States of America.
Prerequisites:
Basic physical fitness skills, knowledge of the geography of the USA.
Suggested Grade Level:
6-8
Materials Needed:
20 cones, station signs, 2 jump ropes, chair, pull up bar,
Station Cards
(PDF)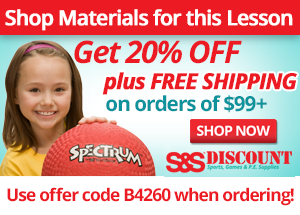 Description of Idea
This is a station-based activity filled with fitness objectives at each station. Each station has a sign, labeled with the name of a city, fitness objective, and directions to the next city. Station signs are found here. (PDF). Make sure you go over safety instructions before starting. Stop the stations if you see any unsafe behavior/practices.
1. Tape the station signs to the cones and set up according to a map of the USA. Have one wall be the "Atlantic Ocean" and the opposite wall be the "Pacific Ocean" to help with direction.
2. Once the cones have been put in place, divide the students evenly, and position at each station; this will be their "home city."
3. Each student is to perform the activity listed on each station card.* There is no time limit.
4. A group is finished when they make it around the USA and back to their "home city."
The stations are as follows:
Chicago: 25 Jumping Jacks
Move on to Phoenix
Phoenix: Make up your own exercise to Atlanta and Back
Move on to Boston
Boston: 15 Push Ups
Move on to Houston
Houston: Jump Rope to Seattle and Back
Move on to Nashville
Nashville: 40 Crunches
Move on to Miami
Miami: Crabwalk while Saying the Pledge of America
Move on to San Francisco
San Francisco: Skip Around the Country 3 Times
Move on to Philadelphia
Philadelphia: 20 Chair Dips
Move on to Seattle
Seattle: 7 Cartwheels
Move on to Bismark
Bismark: High Knees to the Water Fountain & Back
Move on to Washington D.C.
Washington D.C.: 3 One-arm Push Ups with Your Partner
Move on to Las Vegas
Las Vegas: Do the "Macarena" 5 Times
Move on to Boise

Boise: Grapevine to the Locker Room & Back
Move on to Myrtle Beach
Myrtle Beach: Line Hop 100 Times
Move on to Omaha
Omaha: Spin in a Circle 15 Times, then Walk to El Paso & Back
Move on to New York City
New York City: 20 Arm Circles; Reverse 20 Arm Circles
Move on to El Paso
El Paso: 10 Coffee Grinders
Move on to Atlanta
Atlanta: 20 Knee Tucks
Move on to Denver
Denver: Lunges to Pull Up Bar, 1 Pull Up, Lunges Back
Move on to Appomattox
Appomattox: Crawl to Your Teacher and HIGH FIVE!
Move on to Chicago (We use Appomattox, the location of our school. Use your location!!)
Station Cards (PDF)

Variations:
Could do state capitals instead of states.
Teaching Suggestions:
Have high expectations for safety and proper behavior at each station.
Students have to repeat the exercise if they went to the incorrect city.
Submitted by Stephanie Miller in Roselle, IL. Thanks for contributing to PE Central! Posted on PEC: 7/22/2008. Viewed 102838 times since 5/21/2008.
Around the USA Fitness

---
Previous Comments:
| | |
| --- | --- |
| Kaitlyn | Thank you for sharing this! I will definitely use this. Great way to add in another discipline. |
| Mark R | I want to use this activity as part of an obesity unit. I'm thinking of also putting poverty rates and obesity rates on the City Cards in order to reinforce that relationship in the student's minds. After class, we can discuss why that relationship exists and what can be done to change it. |
| Mark | I tried this out this week and the kids weren't thrilled with the idea of fitness, but once they started the activity the all had smiles on their faces. I had to make a few adaptations based on available equipment. The kids do seem to get bored with it the second day through it, and it lasted about 25 minutes with about 30 students. |
| Samantha | This sounds great! I will be trying this out this week and made my own Around the USA cards!! Wonderful idea!!! |
| Stephen Haines | The lesson went really well. This is an activity that I will do in the future. |
| Delaney | I tried this game with class and everyone loved it! we don't have a pull-up bar, so we did the lunges to the exercise room. This is something I will use again for sure! |
| Nicole Ingley | I did the Around the USA Fitness. My 8th graders loved it and it was easy to manage. I just add a worksheet with it and a pedometer for assessing. |
| Emily | Great idea! I love the geography integration as well. Plan to use this year! |
---
---