Name of Activity:
Foot Volleyball
Purpose of Activity:
To allow students to work together as a team and to promote ball control with the feet. The game also reinforces basic volleyball rules.
Prerequisites:
Students need to have a basic understanding of the rules of volleyball and need to be able to track a ball in motion and use their feet to propel a large ball over a net.
Suggested Grade Level:
9-12
Materials Needed:
Badminton nets and poles
Large inflatable light ball, beach balls work fine.
Volleyball nets will suffice for this activity, but any net needs to be at about a four foot level.
Playing suface should be about half the size of a regulation volleyball court, but can be adjusted to fit class size and grade level.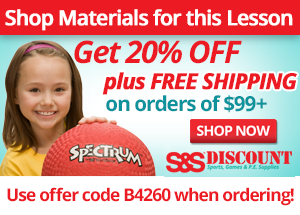 Description of Idea
Students in teams of 4 or 6, are arranged on the floor in volleyball positions. The students stay in crab position to move to the ball (or may lie in the floor with feet in the air). The game is played essentially like volleyball. Three hits with the feet or knees are allowed to hit the ball over the net. The ball cannot hit the ground. Instead of one person only making contact with the ball, in foot volleyball, more than one may do so as long as they make contact almost simultaneously. Rotation is the same as in volleyball.
Assessment Ideas:
Ask the students to compare and contrast rules of foot volleyball to volleyball.
Have students think of ways to modify other games utilizing hands to allow for the use of feet.
Have the children demonstrate rotational schemes for additional players in a game.
Adaptations for Students with Disabilities

Students in wheel chairs may stay in their chairs during the game.
A person may be used as a guide for students with vision problems to call out numbers in rotational order or names when the ball comes near them.
Let the ball bounce once in between hits.
Submitted by Robin who teaches at Greenwood Elementary School in Louisville, KY. Thanks for contributing to PE Central! Posted on PEC: 8/29/2001. Viewed 84659 times since 8/24/2001.
Foot Volleyball

---
Previous Comments:
Rachelle McInroe

I just saw this sport-foot volley- being played on TV last week. It was fascinating and amazing to see the skill of the athletes. Can someone please give me a contact number-phone- or someway else I can find out if there are instuctional dvds or videos on how to teach this sport or how to play it. Our family loves soccer and our son who is a sophmore in high school and plays varsity soccer may benefit from it. I already tried acessing information on "foot volley. com". The phone numbers didn't get through. Thanks! Rachlle McInroe
e-mail [email protected]
---
---