Name of Activity:
Fun Dance
Prerequisites:
Knowleged of the basic dance steps - grapevine, 8 count progression
Suggested Grade Level:
3 - 5
Materials Needed:
CD player, upbeat music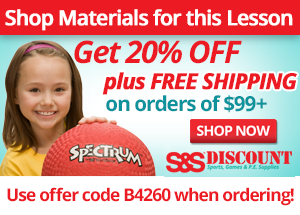 Recommended music:
Jock Jams(ESPN)"Get Ready 4 This" by 2 Unlimited; cd-#2
Description of Idea
Walk forward 4 counts and do two jumping jacks. Count the up arm motion of the jumping jack as one and the down motion as two (8 count total with the walk up and the two jumping jacks).
Walk back 4 counts then do alternating punches across the body while the same leg steps out for a 4 count (right arm right leg.) In this move the right hand crosses body with a punch while the right foot steps out then the left hand crosses body and punches while the left foot steps out.
Grapevine right for four counts then left for four counts-8 count total
Swim for eight counts-arms do the crawl stroke forward or you can do 4 back strokes and 4 front strokes or all back strokes
Repeat
Assessment Ideas:
Discuss reasons why warming up is important before activities. Have students make up their own dance and share with the class.
Submitted by Adam Weinbaum who teaches at Stowers Elementary in Fort Benning, GA. Thanks for contributing to PE Central! Posted on PEC: 2/17/2007. Viewed 45582 times since 11/29/2006.
Fun Dance

---
Previous Comments:
---
---